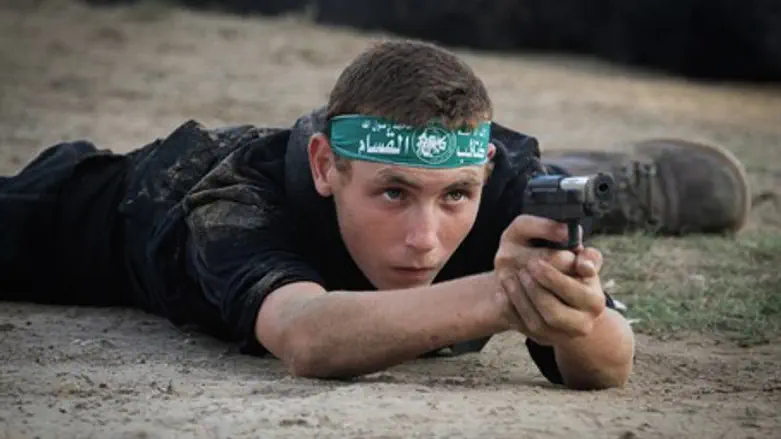 Hamas terrorist summer camp
Aaed Tayeh/Flash 90
Journalist David Bedein, head of the Center for Near East Policy Research, spoke to Arutz Sheva on Thursday about how Iran is funding terror camps in Gaza that teach children there how to murder Jews.
Bedein's center just last Thursday released a new video entitled "Iran: Billions for Terror?," revealing the involvement of the Islamic regime in funding terrorist training in Gaza and summer camps, where children are taught to conduct attacks against Israel.
Those camps are "a systematic education for children to learn how to use weapons to murder Jews," explained the journalist.
According to Bedein, Israel has made a policy mistake in choosing to emphasize the threat of Iran's nuclear capability in its opposition to the Iran nuclear deal.
"The nuclear capability is one thing, which most people can't understand - not in Israel and not abroad. What people can understand is what it means to put thousands of guns in the hands of children and to train them systematically to murder Jews."
Bedein warned about the effects in Gaza of sanctions relief from the Iran deal, which gives the leading state sponsor of terror a windfall of up to $150 billion.
"Iran: Billions for Terror?," which was broadcast on Fox News this week, consists of video materials filmed by Arab journalists in Gaza.
In it, children are seen training to blow up Israeli towns, and applauding video of former Iranian Supreme Leader Ayatollah Ruhollah Khomenei saying the entire world - and particularly the Muslim world - must help the Palestinian Arabs with all weapons possible.
The film, "Iran: Billions for Terror?," can be viewed below.