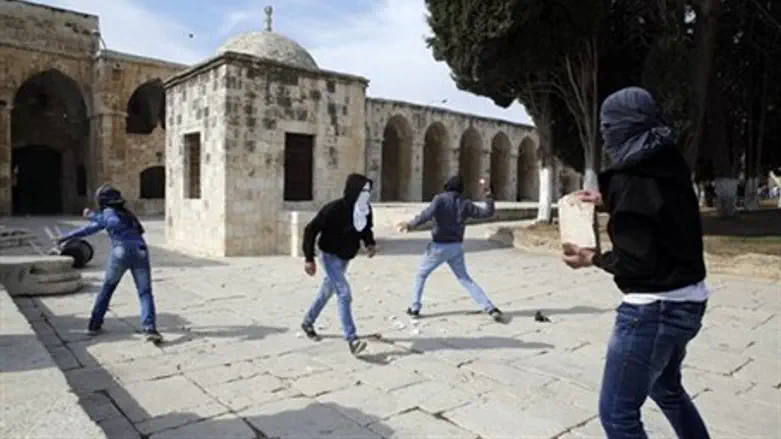 Muslims on Temple Mount (file)
Sliman Hader / Flash 90
The UN Security Council appealed for calm and restraint Thursday after three days of clashes this week at Jerusalem's Temple Mount  between Israeli police and Arab mobs. 
In a unanimous declaration, the 15-member panel also expressed its "grave concern" and called for maintaining the rules governing the sensitive site, which is Judaism's holiest.
"The members of the Security Council called for the exercise of restraint, refraining from provocative actions and rhetoric, and upholding unchanged the historic status quo" at the compound "in word and in practice," a statement said.
The site has been under the iron grip of the Jordanian Waqf Muslim Authority since being liberated in 1967. Under longstanding regulations, Jews are allowed to visit but cannot pray there to avoid "provoking tensions" with Muslims. 
Palestinian Arabs are reportedly deeply suspicious that Israel will seek to change rules governing the site, although Prime Minister Binyamin Netanyahu has repeatedly said he has no intention of doing so.
Netanyahu assured UN Secretary-General Ban Ki-moon late Thursday that his country was determined to strictly apply the status quo.
The council said both worshippers and visitors should be without fear of violence or intimidation while at the compound.
Council members called for an end to the clashes, so that "the situation returns to normality in a way which promotes the prospects for Middle East peace between the Israelis and the Palestinians."
Violence has been going on at the Temple Mount complex since before Rosh Hashanah, when masked Muslim rioters hurled rocks and fireworks at police on the Temple Mount, as well as firebombs near two entrances to the site.
The clashes continued after the holiday as well, as once again masked Muslim youths gathered around the mosque and threw rocks and other projectiles at police who had entered the compound in large numbers and responded with stun grenades. 
However, Israel's response to the riots has resulted in it being internationally criticized instead of the Arab rioters who are behind the clashes.
AFP contributed to this report.