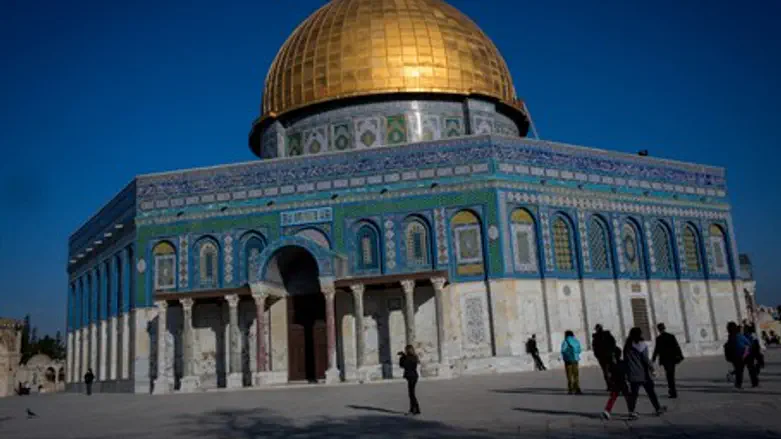 Dome of the Rock on Temple Mount
Miriam Alster/Flash 90
Prime Minister Binyamin Netanyahu on Thursday evening spoke with UN Secretary-General Ban Ki-moon in the wake of the ongoing terror wave in Jerusalem.
Netanyahu told the UN chief that Israel is acting against the violence on the Temple Mount, according to a statement from the Prime Minister's Office.
He added that Israel is strictly maintaining the status quo, Palestinian incitement to the contrary notwithstanding.
Violence has been going on at the Temple Mount complex since before Rosh Hashanah, when masked Muslim rioters hurled rocks and fireworks at police on the Temple Mount, as well as firebombs near two entrances to the site.
The clashes continued after the holiday as well, as once again masked Muslim youths gathered around the mosque and threw rocks and other projectiles at police who had entered the compound in large numbers and responded with stun grenades. 
However, Israel's response to the riots has resulted in it being internationally criticized instead of those Arab rioters who are behind the clashes.
French President Francois Hollande warned on Wednesday that any change in the current rules governing the Temple Mount - Judaism's holiest site - could lead to "serious destabilisation."
He was echoing calls by other states, including the United States, to maintain a ban on Jewish prayer at the site despite its holy status for Jews, in order to placate Muslim extremists.
The Arab League, Jordan, and Saudi Arabia have condemned Israel as well. The Arab League warned against the "Judaization of the Al-Aqsa Mosque by Israel" and threatened to turn to international legal institutions.
Saudi King Salman, meanwhile, appealed to Ban and members of the Security Council for "urgent measures" after the clashes.
Salman "expressed strong condemnation of the dangerous Israeli escalation" at the holy site where Palestinian rioters clashed with Israeli police for three straight days, the Saudi Press Agency reported.