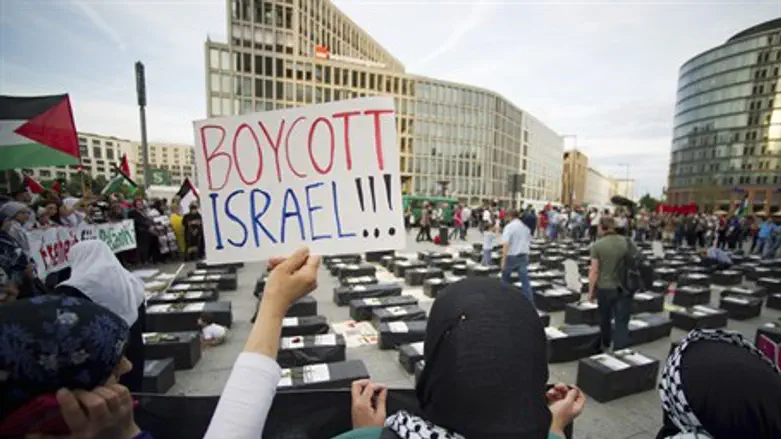 Boycott movement (illustration)
Reuters
Reykjavik, the capital of Iceland, made waves on Tuesday when its city council decided to boycott Israel, but on Thursday Iceland's Foreign Ministry clarified that the state does not give that decision any credence.
Urdur Gunnarsdóttir, a spokesperson of the ministry, told the Hebrew-language Channel 2 that "the decision of the city council does not indicate Iceland's relations with Israel."
Reykjavik's city council had decided to boycott all Israeli goods "as long as the occupation of Palestinian territories continues," in a move that was thought to be mostly symbolic since the council has no authority over the state's foreign policy.
Gunnarsdóttir highlighted this point, saying, "the city council of Reykjavik is one of 74 regional authorities in Iceland. As in other municipalities, the city council of Reykjavik is free to draft policy relating to its local issues, including its purchasing policy, as long as it is in accordance with national legislation."
However, she said the decision to boycott Israel "doesn't match the foreign policy of Iceland."
"Israeli tourists and other visitors from Israel are of course welcome to Iceland, just like they were until now," she added, in apparent damage control after the decision which raised much ire in the Jewish world.
Iceland's Foreign Ministry has announced that its imports from Israel are limited, with the cumulative imports from last year totaling just $6 million.
In response to the decision, the European Jewish Congress (EJC) said that it is considering suing the city council of Reykjavik.
"This is clearly a discriminatory move and we have already sought advice that it might break international law and treaties," Dr. Moshe Kantor, President of the EJC, said. "Once again we see one nation, over all others, subjected to a ban and boycott, and we would like to ask those that sought this boycott if it is a mere coincidence that this nation also happens to be the only Jewish nation in the world."
Israeli Foreign Ministry spokesman Emmanuel Nahshon also responded to the boycott by saying: "a volcano of hatred is erupting in the Reykjavik city council. Without any reason and justification besides pure hatred, calls are being issued to boycott the state of Israel." 
The boycott comes as the European Union considers a move to label products made by Jews living in Judea and Samaria, a move Israel considers tantamount to a boycott.  
Prime Minister Binyamin Netanyahu recently evoked the Nazi era boycotts of Jews to criticize an EU parliamentary motion on labeling.