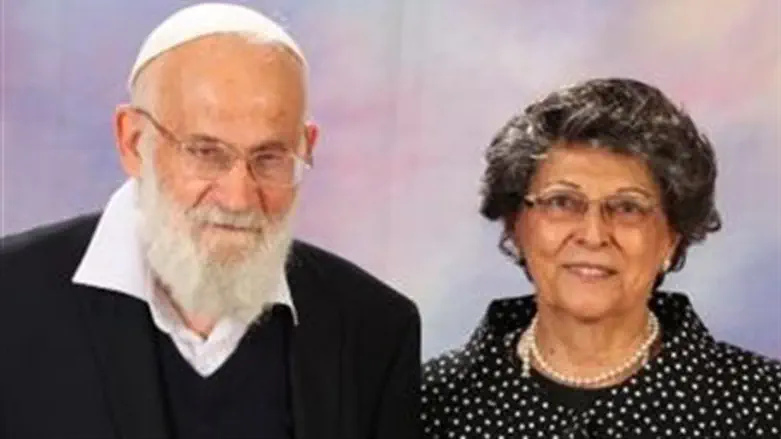 Rabbi Avichail and wife, Rivka
Courtesy of family
Rabbi Eliyahu Avichail, the founder and director of Amishav, the organization on behalf of the Dispersed of Israel, passed away on Thursday morning at the age of 83. 
Rabbi Avichail was identified for many years with efforts to find the descendants of the ten lost tribes. He founded Amishav in 1975 to help Bnei Menashe communities in India, Myanmar (Burma) and Israel. 
Also an educator, Rabbi Avichail taught for many years at educational institutions within the religious word. Together with his wife, Rivka, he won the Yakir Yerushalayim award for outstanding citizenship in 2012. 
Rabbi Avichail is the author of six books on the Ten Tribes and dedicated his life to research regarding their fate. 
Thanks to his activism, thousands of people from communities thought to be descended from these tribes made aliyah to Israel. Most notable in the Bnei Menashe community from India. 
According to his grandson, Aryeh Minkov, Rabbi Avichail even helped Marranos in Spain return to Judaism and come to Israel. 
Minkov told Arutz Sheva that Rabbi Avichail was first encouraged to pursue the issue of the dispersed of Israel by his teacher and mentor, Rabbi Tzvi Yehuda Kook. 
He then established the Amishav organization, which Minkov described as Rabbi Avichail's "whole world despite being a side job."
"We as a family saw the great love the Bnei Menashe felt for my grandfather. They called him brother, named their children after him, and in the last year, when he fell ill, they came to visit. My grandfather loved them back. That was his whole world."
Rabbi Avichail is survived by his wife, six children and numerous grandchildren. Funeral details have not yet been announced.