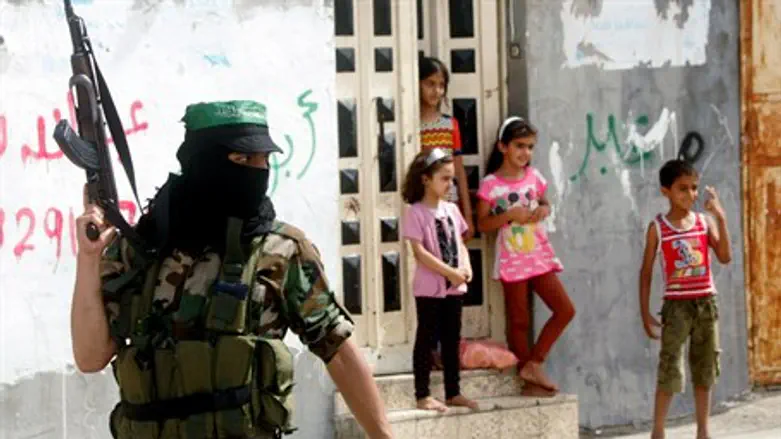 Hamas terrorist with Gaza children
Flash 90
Hamas is continuing to use its media to educate young children to carry out "jihad" against Jews.
The Middle East Media Research Institute (MEMRI) has exposed a clip from a children's show on the Hamas-owned Al-Aqsa TV channel which shows young children, dressed in military fatigues, asked what they want to be when they grow up.
One of the children said that he wanted to be an engineer, "so that I can blow up the Jews." Another recited a poem, "I shall liberate [Jerusalem] from the Jews by means of the Al-Qassam Brigades."
MEMRI has in the past published several clips which show Arab youths vowing to fight "the occupation".
A clip released by MEMRI earlier this year showed footage from a youth camp organized by Hamas's so-called "military wing", in which young cadets learn how to use weapons and simulate the kidnapping of an Israeli soldier.
A previous clip shows a televised graduation ceremony for a similar Hamas youth camp in Gaza. At the ceremony, suicide terror attacks against the "Zionist enemy" were glorified by Hamas officials.
Hamas has also in the past released a cartoon honoring its "military wing".