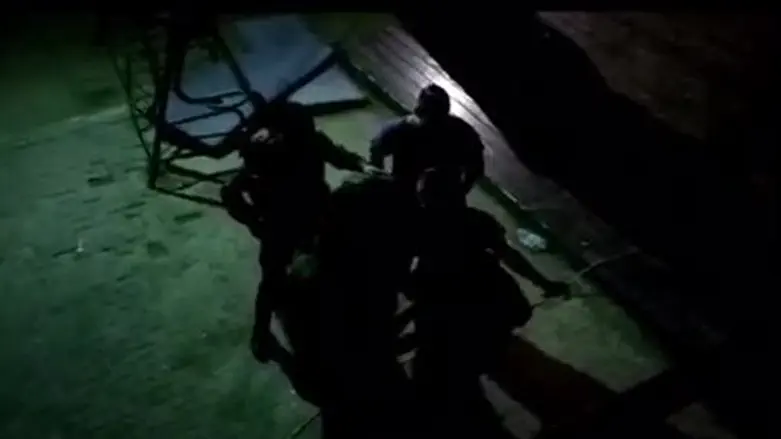 Border Police arrest Jews for non-violent protest
Honenu
A Beit Orot yeshiva [Torah academy] student was arrested in Jerusalem on Tuesday night, after its students retaliated against a steady stream of Arab attacks by blasting the "Shema Yisrael" prayer over a loudspeaker.
Dozens of Arab rioters set off fireworks and threw rocks at Border Police near the yeshiva. After half an hour of clashes, students retaliated by blasting the prayer in a non-violent response. 
Shockingly, instead of Border Police arresting the rioters, they broke into the school, and threatened to arrest students for "agitating Arabs."
The student who was arrested, a discharged soldier who until recently was a commander in a combat unit, was detained for noting to the officers that they had no legal grounds to ban the song. 
In addition, police officers attacked a student who documented the arrest.
The student was taken away and taken to the police station with his hands cuffed behind his back. He said he was put in a room without air conditioning, was placed in a corner facing the wall and was left for a long time.
Only after attorney Rehavia Pilz from the Honenu legal rights organization came to the police station did the officers agree to release him and handcuff him with his hands in front.
He was questioned on suspicion of assaulting a police officer and disturbing the public, denied the allegations and was released around 2:00 am - and only under supervision. Police also returned the speakers to the yeshiva overnight. 
Honenu responded Wednesday that the incident is a scandal. 
"Rather than act decisively against Arab rioters and terrorists hurting Jews in Jerusalem regularly, police officers act rather decisively against Jewish residents," Honenu fumed. "Why?"
"We will consider a lawsuit against the police officers with respect to the student's false arrest," it added.