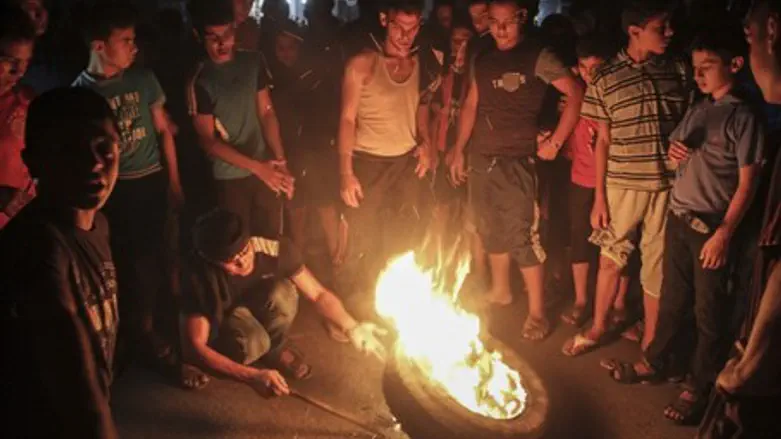 Gazans burn tires to protest electricity shortage, Sept '15
Abed Rahim Khatib/ Flash90
Prolonged disputes between Hamas and the Palestinian Authority (PA) have left Gazans without electricity for eight-hour stretches - and Gazans say that they prefer Israel over their Hamas rulers as the crisis continues. 
"The Israelis are better," Ibrahim, one Gazan, told Channel 2 Wednesday. "All talk on the street is about the electricity. All the public talks about is how hard it is in Gaza." 
Last Monday, amid an unprecedented heat wave in the region, protests turned into violent clashes between Gazans and the Hamas police force over the issue. Hamas threatened further violence against violators of public order; many residents are afraid to express their anger." 
"They have no mercy," Ibrahim said. "Whoever opens his mouth will be sent to jail for a year or two." 
Meanwhile, the electricity crisis is worsening. 
"I live in Rafah," another Gazan said to the outlet. "We have electricity for four hours, then 20 hours without electricity." 
"Living in a tent is better than living here." 
Gaza's main power plant has been out of order since July, when Hamas accused the PA of raising tax levies beyond the point at which the plant was maintainable. Hamas pays the PA for fuel imported to Gaza, but is short of cash and had been unable to cover the additional costs in tax. 
Relations between Islamist Hamas and the PA, which is dominated by bitter rivals Fatah, are at rock-bottom despite an April 2014 agreement that installed a "unity government" and was meant to centralize administration of the two.