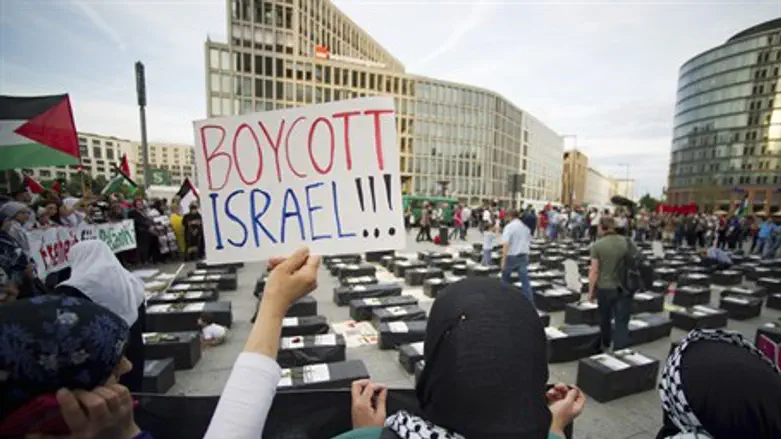 BDS (illustrative)
Reuters
The European Parliament passed a non-binding resolution Thursday calling on the European Union to differentiate "between Israel and its activities in the occupied Palestinian Territory" and to ensure "that all agreements between the EU and Israel must unequivocally and explicitly indicate their inapplicability to the territories occupied by Israel in 1967."
The resolution, which passed by 525 votes to 70, with 31 abstentions, calls on EU foreign policy chief Federica Mogherini "to take the lead within the Commission with a view to completing the work on EU-wide guidelines on the labeling of Israeli settlement produce."
The Israeli Foreign Ministry lashed out against the move, saying, "The State of Israel views the parliament's decision with severity, in particular the call for labeling products. The process of labeling is discriminatory, and reeks of a boycott."
Foreign Ministry spokesman Emmanuel Nahshon said that the EU motion was "discriminatory with a sharp smell of boycott," adding that "under the guise of a technical procedure, this is an attempt to force a diplomatic solution instead of encouraging the Palestinians to return to the negotiating table."
He added: "Europe treats Israel with sanctimonious hypocrisy, while it doesn't raise the issue of similar solutions in Northern Cyprus and Western Sahara."
Deputy Foreign Minister Tzipi Hotovely responded to the decision by saying: "We need to call a spade a spade: marking products is a boycott.
"The state of Israel will not allow any body to discriminate between products that are produced by citizens of Israel and within Israel's territory," she added. "The attempts to advance some kind of arrangement through unilateral moves, especially when this involves labeling products, will end up achieving nothing and leading nowhere."
Hotovely said that immediately after Rosh Hashana, she intends to hold an urgent session on the matter with the Europe Section of the ministry, and launch a diplomatic campaign against the EU initiative to label products.