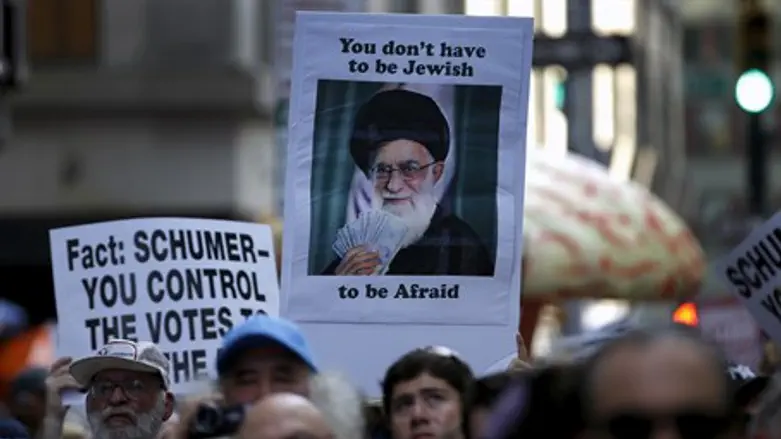 Stop Iran Rally (archive)
Reuters
Two separate rallies were held in Washington, DC, on Wednesday afternoon, where demonstrators gathered to speak out against the nuclear deal with Iran.
In one rally, thousands of people converged on the West lawn of the Capitol, where Republican presidential candidates Donald Trump and Ted Cruz joined forces to denounce the deal.
Separately, a group of some 200 rabbis from the Orthodox Union (OU) and the Rabbinical Council of America (RCA) gathered to speak out themselves against the nuclear deal and the threats it poses.
"It wasn't a loud rally but it was a rally just expressing the fact that there are rabbis from across the country that are so much against this Iranian deal," Rabbi Yoel Schonfeld, who took part in the rally, told Arutz Sheva, noting that "a large part of [the rally] was due to the fact that you have leftist rabbis who signed ads in favor of it. So we wanted to show how major communities are against this deal."
After the rally, he said, some of the rabbis held private meeting with American lawmakers, both from among those who were in favor of the deal and some who are opposed to it.
"I met privately with Congresswoman [Grace] Meng, who's my Congresswoman who came out against this deal. So we wanted to thank her," said Rabbi Schonfeld. "There were other rabbis here who met with lawmakers who are in favor, who said they would support the deal."
"The message [at the rally] really was that this is a bad deal and this administration had always promised that a bad deal is worse than no deal, and here you have a bad deal," he continued, noting that even those who had supported the deal had expressed reservations about it.