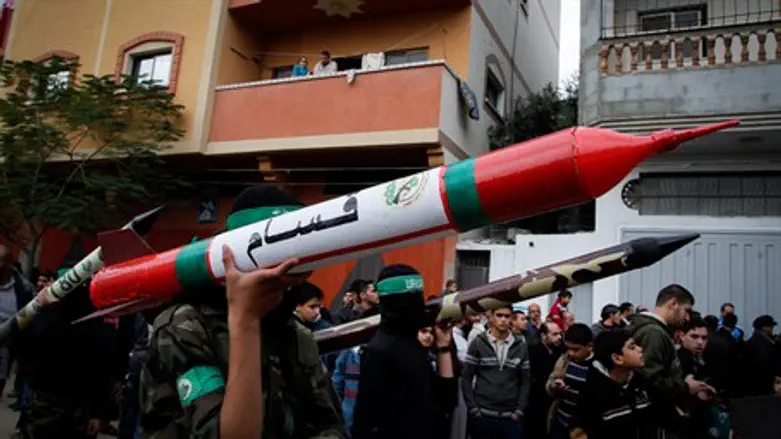 Hamas terrorists parade rockets in Gaza
Abed Rahim Khatib/Flash 90
The United States has placed three senior members of the Palestinian terrorist movement Hamas as well as one Hezbollah-affiliated terrorist onto its terror blacklist on Tuesday.
The State Department said Hamas operatives Yehia Sinwar and Rawhi Mushtaha along with military commander Mohammad Deif had been named "specially designated global terrorists" under US law.
Israel freed both Sinwar and Mushtaha in 2011 in the prisoner exchange for captive soldier Gilad Shalit. A total of 1,027 terrorists, many of whom have since returned to terror activity, were released in that exchange. 
Last August during Operation Protective Edge, the Israeli Air Force conducted an airstrike on Deif's home in Gaza, killing his wife and son.
Hamas maintained that Deif has survived the assassination attempt, which Israeli sources confirmed in April, saying the military commander had returned to running operations.
"He is known for deploying suicide bombers and directing the kidnapping of Israeli soldiers," the State Department said in a statement announcing his new designation.
"During the 2014 conflict between Israel and Hamas, Deif was the mastermind of Hamas' offensive strategy."
The US also put Samir Kuntar, a Lebanese terrorist notorious for the murder of three Israeli civilians including a young girl, on the blacklist.
Israel released Kuntar as part of a prisoner exchange in 2008, three decades after the killings, and he has since become a high-profile figure in the Lebanese armed movement Hezbollah.
As "global terrorists," the four terrorist figures are subject to the seizure of any assets they hold in areas of US jurisdiction and Americans are forbidden from doing business with them.
Hamas denounced the decision as "immoral and against international law" on its Twitter account, accusing Washington of "backing Israeli terrorism."
AFP contributed to this report.