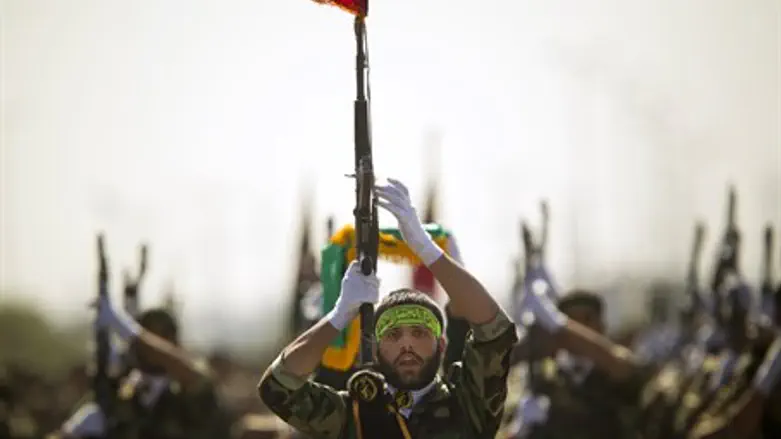 Members of Iran's Basij paramilitary force march in Tehran (file)
Reuters
Students from Iran's Islamic Basij militia on Wednesday set fire to American, British and Israeli flags outside the former US embassy in Tehran.
Some 30 people took part in trampling and burning the flags at a ceremony to unveil a plaque on the embassy's fence of 100 derogative expressions to describe the United States.
The phrases, all used by the Islamic Republic's late founder Ayatollah Ruhollah Khomeini, included: "Great Satan", "criminals", "corrupt", "arrogant" and "anti-Koran," according to AFP journalists at the scene.
The Basij is a pro-regime paramilitary force made up of fanatical Shia Muslim volunteers, usually used to quell any opposition to the country's theocratic dictatorship.
The flag-burning comes just a month and a half after the signing of a landmark nuclear deal between Iran and world powers, including the US and Britain.  
On Tuesday, Iranian police arrested merchants for selling clothing that featured the flags of the United States and Britain.  
Iran does not recognize the State of Israel and calls for its total destruction, and is also avowedly hostile towards the US and Britain.
Washington broke off relations with Tehran in 1980 after Islamist students took American diplomats hostage in the US embassy in Tehran following the 1979 Islamic revolution.
Iran is the world's leading state sponsor of terrorism, and has been accused of fomenting regional unrest in the Middle East.
The Shia Islamist Iranian regime has accused Britain, along with the US, of orchestrating a coup against nationalist prime minister Mohammed Mossadegh in 1953. 
But after July's nuclear deal, Britain and Iran reopened their respective embassies in Tehran and London last month, after a four-year closure.  
Yet that fact has done nothing to lessen Tehran's hostility towards Israel or western powers.
On Tuesday, Iran's top religious leader announced that the United States was still the country's "number one enemy," while another senior Iranian official reaffirmed Tehran's commitment to the "annihilation" of Israel.
AFP contributed to this report.