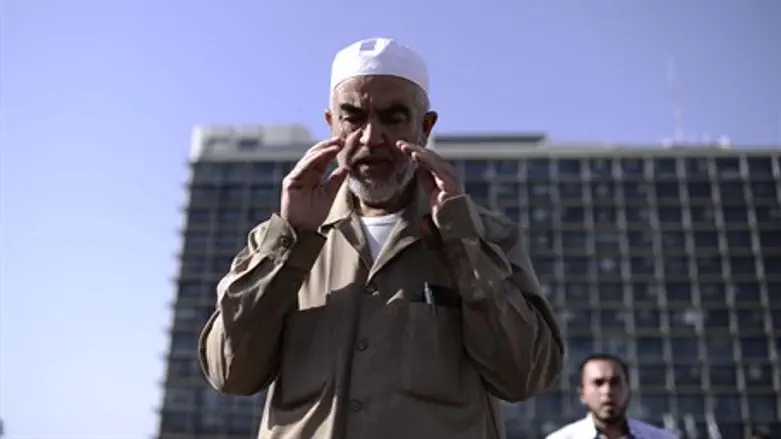 Sheikh Raed Salah prays in Tel Aviv's Rabin Square
Tomer Neuberg/Flash 90
In response to Internal Security Minister Gilad Erdan's (Likud) call Monday to ban the Islamist organizations that routinely riot on the Temple Mount, the holiest site in Judaism, the leader of one such radical organization spoke out against the move.
Sheikh Raed Salah, head of the radical Islamic Movement in Israel, gave an interview to the Hamas paper Palestine, in which he said the entire Palestinian Arab society - both those with and without Israeli citizenship - needs to unite to "help" Jerusalem and the Al-Aqsa Mosque.
The Arab rioters who attack police and Jewish visitors on the Temple Mount on a regular basis symbolize the "honor" of the Muslim nation and the Arab world, according to Salah.
Salah just last month called to conquer the Temple Mount, saying, "we must go out against all these breaches until the occupation is removed."
Dr. Najah Bahirat, president of the Koran Academy at the Al-Aqsa Mosque, claimed in the Hamas paper that the Israeli authorities want to remove the "last defense" of the mosque as part of a plan to "Judaize" the Mount - which is the site of the First and Second Temple.
Bahirat called to forbid "Jewish terror organizations" from implementing an alleged plan to destroy the mosque and build the "imaginary" Third Temple, and to kill Muslims on the Temple Mount.
The Mount remains under the de facto control of the Jordanian Waqf, despite having been liberated from Jordanian occupation in the 1967 Six Day War.
Jordan just this week threatened to deploy soldiers to the Mount following the plan to ban Muslim rioters.