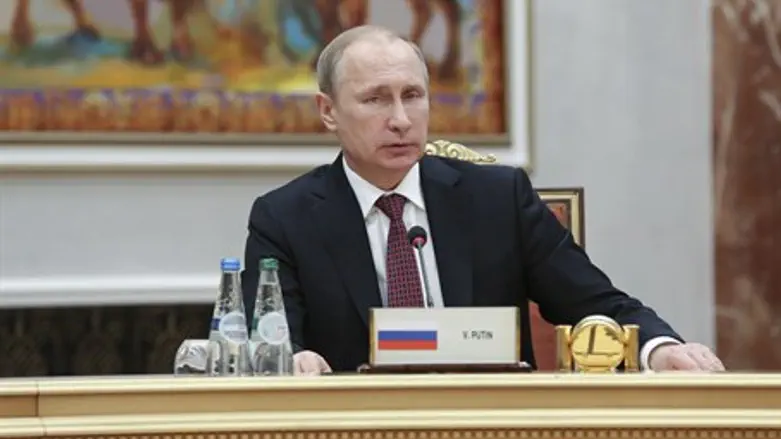 Russian President Vladimir Putin
Reuters
Russian President Vladimir Putin said on Wednesday that Russia is planning to build a nuclear power plant in Egypt, the Turkish Anadolu agency reports.
Speaking at a joint press conference in Moscow with visiting Egyptian President Abdel-Fattah al-Sisi, Putin said that Russia and Egypt have agreed to take steps to bolster bilateral economic cooperation.
"Among our joint cooperation projects is the building of a nuclear power plant [in Egypt] with Russian technology," the Russian president said, according to Anadolu.
He added that Russian and Egyptian experts are now finalizing measures to accomplish this project.
Putin said that he agreed with Sisi to form a trade zone as part of efforts to enhance bilateral relations between Russia and Egypt.
Sisi, for his part, hailed strong relations between Egypt and Russia, saying that his country was looking to establish a strategic partnership with Russia.
Sisi added that Egypt was looking forward to benefiting from the Russian nuclear expertise, adding that both countries have made remarkable progress in terms of making use of nuclear power.
In February, Cairo and Moscow signed a memorandum of understanding to build a nuclear reactor for power generation in Egypt's northwestern Al-Dabaa region.
The power plant is expected to have a capacity of 1,000 megawatts.
Egyptian-Russian relations have greatly improved since 2013, when the military ousted Islamist President Mohammed Morsi. Last year, Putin endorsed Sisi's presidential bid.
The improvement in relations came amid tensions between Cairo and Washington. Shortly after Morsi's ouster, the United States announced it would cut hundreds of millions of dollars in aid to Egypt over its displeasure with the military's pace of restoring democracy.
Since then, however, the United States delivered eight F-16 warplanes to Egypt and resumed formal security talks with the country.