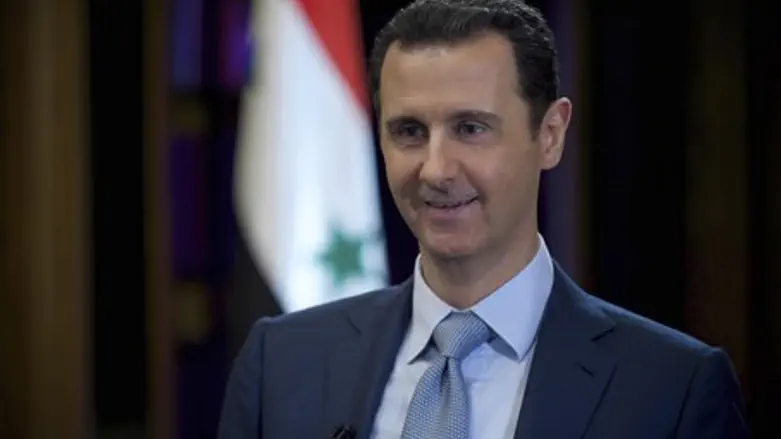 Syrian President Bashar Al-Assad
Reuters
Syrian President Bashar Al-Assad expressed "strong confidence" Tuesday that Russia will continue supporting his embattled regime, speaking in an interview with Hezbollah's Al-Manar television network and quoted by AFP.
Assad also described as "legitimate" the presence in Syria of fighters from Hezbollah backing his forces.
The powerful Lebanese Shiite movement, along with Russia and Iran, have been Assad's major allies since Syria's revolt broke out in 2011.
"We have strong confidence in the Russians, as they have proven throughout this crisis, for four years, that they are sincere and transparent in their relationship with us," Assad said, according to AFP.
His rare television interview came as Russian President Vladimir Putin discussed the Syrian crisis with Jordan's King Abdullah II on the sidelines of the Maks-2015 aerospace show in Moscow.
Assad described Russia as "principled", while "the United States abandons its allies, abandons its friends."
"This was never the case with Russia's policy, neither during the Soviet Union, nor during the time of Russia... Russia has never said that it supported President Such and Such and then decided to abandon him," he charged.
Assad had been asked by Al-Manar's correspondent about President Barack Obama's comments earlier this month that Russia and Iran "recognize that the trend lines are not good for Assad."
He rebuffed the statement, saying Iran, too, remained a steadfast ally.
Assad added that the recent nuclear deal between Iran and world powers would strengthen Iran's role internationally, in turn benefiting Syria.
"The power of Iran is the power of Syria, and a victory for Syria is a victory for Iran," he said, according to AFP, and added, "We are on the same axis, the axis of resistance."
Officials in Washington and other western nations have long called for Assad's ouster, insisting he could not play a role in a political solution to Syria's crisis.
Turning to the question of Hezbollah, he said "the difference (between Hezbollah and foreign anti-regime fighters) is legitimacy. Who invited Hezbollah to Syria," Assad asked.
"It came after an agreement with the Syrian state, and the Syrian state is a legitimate state," whereas "the other terrorist forces came to kill the Syrian people," he added.
In excerpts of Assad's interview released on Monday, he hinted that Syria would not retaliate for last week's Israeli airstrikes in Syria, which came after rockets from Syrian territory were fired onto the Israeli side of the Golan Heights.
"There are Syrian groups that work with the enemy - Israel and other enemies, and call on it to intervene in Syria," Assad told the network.
"Therefore, the tools used by Israel (to intervene in Syria), which are more important that the latest aggression, are the terrorists in the country," he continued.
"The actions of the terrorist organizations are more dangerous than what Israel did recently to support them," the Syrian president claimed. "If we want to deal with Israel we must first deal with the tools that it uses in Syria."
Most recently, UN envoy to the Syrian crisis Staffan de Mistura launched a series of consultations in a step to rekindle talks between the regime and political opposition.
On Tuesday Assad accused de Mistura of making "biased statements," likely referring to the envoy's condemnation of regime bombardment near Damascus that killed over 100 civilians on August 16.
Syria's government last week slammed de Mistura for his criticism of the air raids, saying the envoy "strayed from neutrality" and "making statements that lack objectivity and facts and rely on what is promoted in circles known for their hostility to Syria."
De Mistura's plan, set to begin in September, aims to set up four working groups to address safety and protection, counterterrorism, political and legal issues, and construction.
The plan received support from a UN Security Council presidential statement last week.
On Tuesday, Assad said any initiative must be based on "fighting terrorism."
"Any initiative that does not have combatting terrorism as a priority has no value," Assad said.
Throughout the four-year war, Syria's regime has used the term "terrorist" to refer to peaceful activists, rebels, and jihadists alike.
AFP contributed to this report.