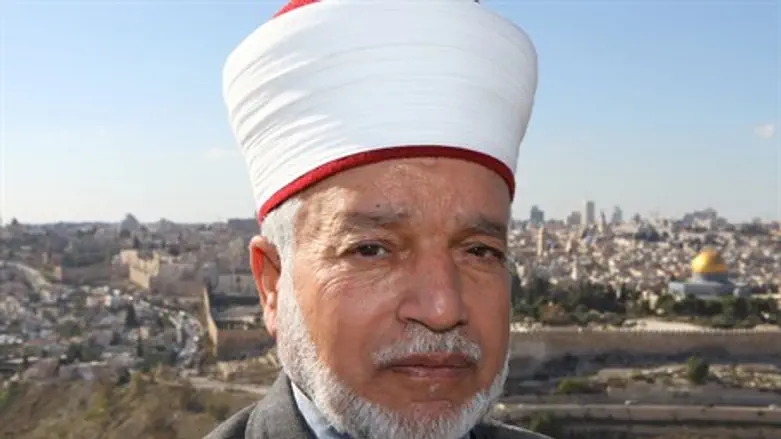 PA Mufti Muhammad Hussein
Nati Shohat/Flash 90
The Palestinian Authority's (PA) Grand Mufti Sheikh Mohammed Hussein on Tuesday condemned Internal Security Minister Gilad Erdan's (Likud) call the day before to ban the Islamist organizations that routinely riot on the Temple Mount, the holiest site in Judaism.
Hussein claimed that Israel prevents Muslims from fully controlling Al-Aqsa Mosque, where Islam claims its founder Mohammed "ascended to the heavens" in a night vision. He also accused Israel of allowing "Jewish extremists to breach in and desecrate it (the site - ed.)."
The PA Mufti accused Israel of being "haughty," and for indirectly seeking equal rights for Jews at the holy site by dividing time between Muslims and Jews at the Mount - as is currently done at the Cave of Machpelah in Hevron.
He called for Muslims to strengthen their hold on the Al-Aqsa Mosque through protests and showing a physical presence, in a call to action that eerily echoes that of PA Chairman Mahmoud Abbas last November, when he urged Palestinian Arabs to wage holy war over the Mount as his aides later explained his comments to mean.
In parallel to Hussein's statements, the PA ministry of holy sites published a report on Tuesday, accusing Israel of an aggressive policy and of corruption in order to "Judaize" Jerusalem, and in particular Al-Aqsa Mosque.
The report, which provides an overview of Israeli steps taken to develop Jerusalem's Old City, claimed the Jewish claim to the Temple Mount - the site of the First and Second Temples - is "false."
It further accuses Israel of adopting the Kotel (Western Wall) as a Jewish site, referring to it as "Al-Buraq" Wall, a name given by Muslims to the Kotel in the 1920s in an attempt to claim it. The name refers to Mohammed's "winged steed" he supposedly rode to Jerusalem in his "night journey."