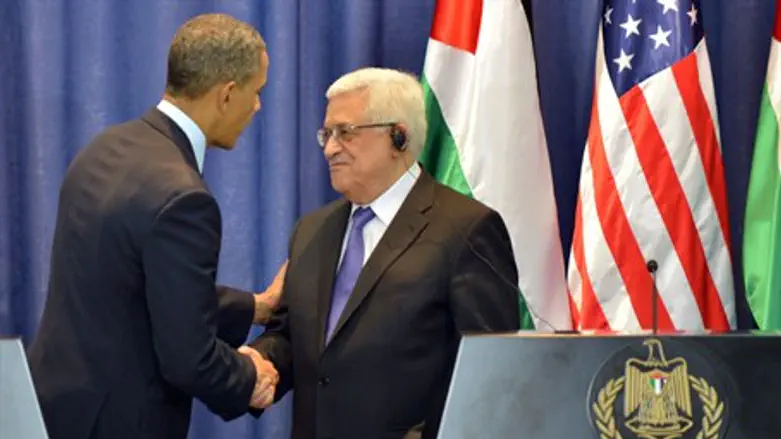 Barack Obama, Mahmoud Abbas
Issam Rimawi/Flash 90
A judge in New York on Monday ordered the Palestinian Authority (PA) and the Palestine Liberation Organization (PLO) to post $10 million in cash or bond while they appeal a jury's finding that they supported terrorist attacks in Israel, Reuters reported.
At a court hearing in Manhattan, U.S. District Judge George Daniels said the defendants must also deposit $1 million each month pending the appeal of a February jury verdict worth $655 million in favor of 10 American families.
The order came a week after the Obama administration took the unusual step of urging Daniels to "carefully consider" the PA's financial condition, saying too high a bond could compromise its ability to function.
A collapse of the Palestinian Authority "would undermine several decades of U.S. foreign policy and add a new destabilizing factor to the region," U.S. Deputy Secretary of State Antony Blinken said in a court filing earlier this month.
In February, the PLO was found liable to pay $218.5 million to victims of terror, a figure that was set to be tripled to $655.5 million according to the anti-terrorism laws under which the case was brought. 
Legal rights group Shurat Hadin (Israel Law Center) helped represent the 11 families who charge the PA and PLO of inciting, supporting, planning and executing the seven terror attacks which killed American citizens between 2000 and 2004. 
In May, the PA admitted it cannot pay such a hefty fine, however - as it is struggling under billions of debt despite an ongoing stream of aid from Israel and other countries - and called the case "political extortion." 
Daniels said in Monday's ruling that in fashioning his order he had given "serious consideration" to the State Department's position, despite objections from the plaintiffs that the amount was far too low.
Kent Yalowitz, a lawyer for the plaintiffs, said the money was a "token amount" and criticized the PA, saying it made payments to terrorists in jail.
"Instead of focusing on rebuilding schools, maybe it ought to focus on taking terrorists off its payroll," he said, according to Reuters.
Daniels said the full judgment would remain on hold while the appeal is ongoing, unless the defendants fail to make the monthly deposits.
He also denied a request from the plaintiffs to add $165 million in pre-judgment interest.