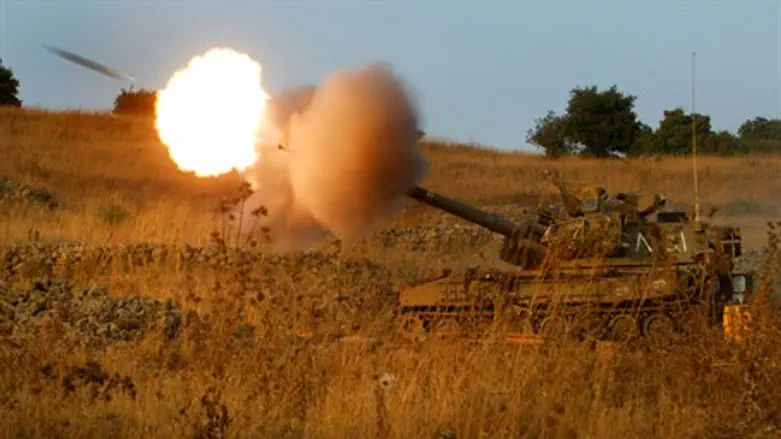 IDF artillery fire (illustration)
Olivier Fitoussi/Flash 90
After four rockets were fired at northern Israel from the Syrian Golan Heights on Thursday, the IDF responded with artillery fire just hours later.
Sources in Syria report that the 90th Brigade of President Bashar al-Assad's regime army is coming under fire, reports Channel 2. Arab media reports indicate the return fire has inflicted a death toll on Syrian forces.
Israeli security sources said that the rockets were fired by the Islamic Jihad terrorist organization, funded and directed by Iran.
The attack comes even as an Islamic Jihad terrorist jailed in Israel ended his hunger strike on Thursday - a strike that led the group to threaten attacks if he were to die.
The IDF notes that the Syrian regime is responsible for the rocket attacks emanating from its sovereign territory, "and it will bear responsibility for the results."
The return fire comes around two hours after four rockets were fired, with two landing in the Golan Heights and two in the Upper Galilee. No one was wounded in the attacks.
Those rockets set off two large brush fires in the Upper Galilee, leading six firefighting crews aided by several firefighting airplanes to be dispatched to fight the blazes, and prevent them from advancing towards the Golan Heights.
The fire does not pose any danger to towns in the region.