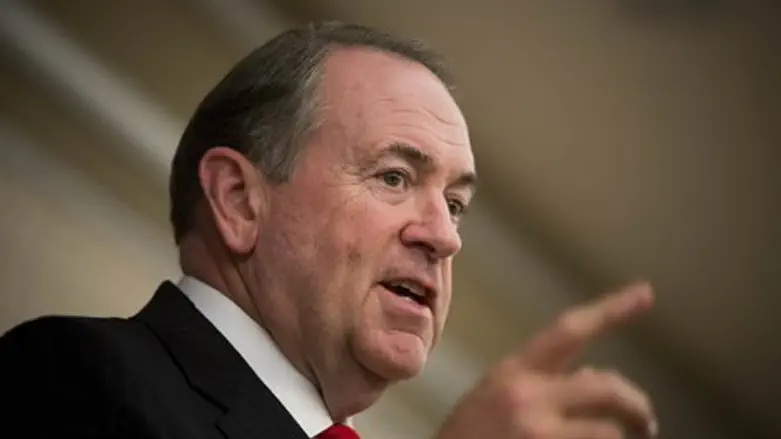 Mike Huckabee in Jerusalem
Yonatan Sindel/Flash 90
After a stop in ancient Shiloh in Samaria on Tuesday, Republican presidential candidate Mike Huckabee held a press conference in Jerusalem on Wednesday afternoon.
Arutz Sheva was on hand for the conference at the Waldorf Astoria Hotel, where Huckabee said the Iran nuclear deal is dangerous not only for Israel but also for the United States.
"I want to note the remarkable relations between Israel and the United States, but I also want to note on this awful deal - not only for Israel but also for America," he emphasized.
"This is a regime that promotes terror in the Middle East," he said of Iran. "I'm happy that Senator (Robert) Menendez joined us in protesting the deal. We all need to be worried by the agreement."
Watch the full press conference:
When asked why he visited Shiloh yesterday, which is in an area termed "occupied territories" by opponents of Israel, he noted, "it's a Jewish town. I don't call this area occupied territory, but rather Judea and Samaria. Israel has a special connection with this region."
Indeed, over 3,000 years ago Shiloh was the site of the first Tabernacle, the precursor to the Holy Temple in Jerusalem.
"I arrived in Shiloh in order to see the history of the Jewish people, I recommend that everyone go there. I don't understand why the international community prevents Israel from living securely in Judea and Samaria as well. As a presidential candidate I feel that obligation to Israel."
Huckabee met with Prime Minister Binyamin Netanyahu on Wednesday morning in what he described as a friendly meeting, and went on to say he recommends that the Palestinian Arabs extend a hand in peace rather than choose the path of terrorism.
Turning his attention to the BDS movement attempting to boycott and economically harm Israel, he said, "notice what happened to the SodaStream factory. They harmed it financially and caused 600 Arabs to be fired! They were fired because of BDS."
Huckabee also expressed his opposition to the establishment of a Palestinian state and Israeli withdrawals from Judea and Samaria.
"Didn't you see what happened in Gush Katif? Didn't you see how many rockets flew at Israel from the territory that was evacuated? I saw the rockets with my eyes! Everyone understands today that withdrawals won't bring peace."