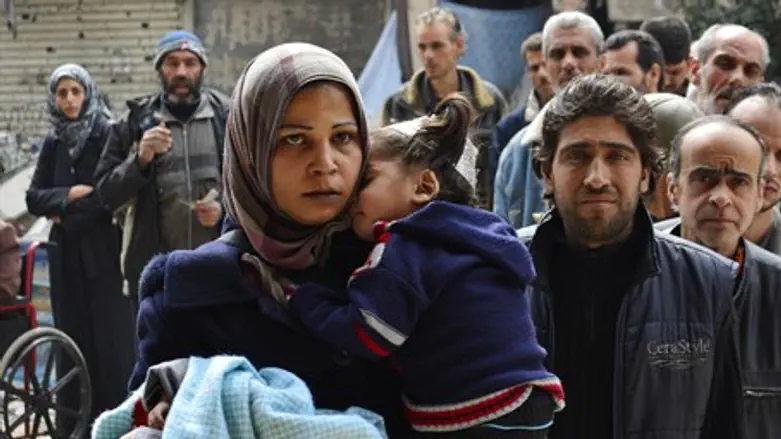 Yarmouk residents queue to receive humanitarian aid
Reuters
Typhoid has broken out among Palestinian residents in from the besieged Yarmouk camp in the Syrian capital Damascus, a UN agency said Wednesday.
The UN agency for Palestinian refugees UNRWA said it had been able to confirm the outbreak after gaining access to residents of the camp sheltering in the nearby Yalda neighbourhood.
"UNRWA has had its first access to civilians from the besieged Palestinian refugee camp of Yarmouk, Damascus, since 8th June," UNRWA spokesman Chris Gunness said in a statement.
"We can now confirm a typhoid outbreak among this UN-assisted population with at least six confirmed cases," he added.
According to the World Health Organization (WHO), about 21 million people are infected with typhoid every year, and an estimated 216,000 to 600,000 die. 
The disease is caused mainly by Salmonella typhi bacteria in food or water contaminated with the faeces or urine of infected people.
UNRWA said the visit to Yalda was its first since access was suspended to areas sheltering displaced Yarmouk residents on June 8. It has not had access to Yarmouk itself since March.
Yarmouk was once a thriving neighborhood of Damascus, home to both Palestinians and Syrians.
But after fighting erupted in the camp, the government in 2013 imposed a blockade and the area's population shrank from 160,000 to just 18,000.
The siege prompted a major humanitarian crisis, with people dying for lack of food or access to medical care.
The situation in Yarmouk has worsened in recent months, with ISIS terrorists entering in April, prompting fierce clashes.
Several thousand civilians have been able to leave the camp but the Syrian Observatory for Human Rights monitoring group and a Yarmouk resident told AFP that up to 14,000 people are still living inside.  
Despite that, the UN has removed Yarmouk from its list of besieged areas in Syria, reducing the number of Syrians under siege by 18,000 in its May 22 report on people under blockade.
Gunness repeated UNRWA's longstanding call for humanitarian access to the Yarmouk camp.  
"Never has the imperative for sustained humanitarian access been greater," he said.
"UNRWA's priority remains the delivery of humanitarian aid to civilians within Yarmuk itself."