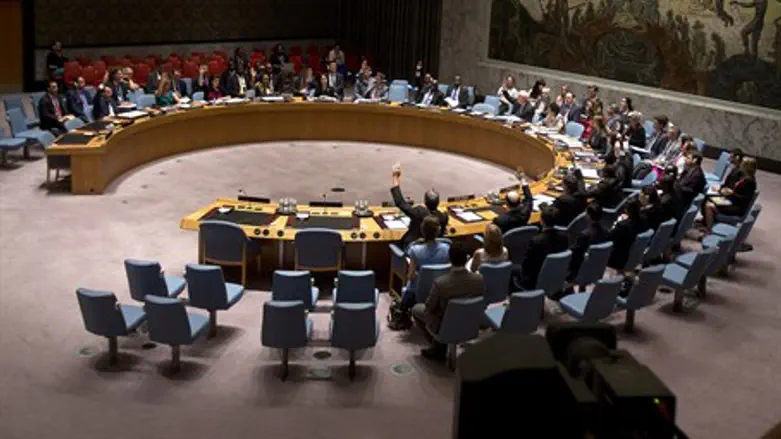 UN Security Council
Reuters
The United Nations Security Council on Monday backed a new push for peace talks in Syria in a measure adopted by Damascus ally Russia and the other 14 member states, AFP reports.
It was the first time in two years that the council agreed a political statement on Syria and French Deputy Ambassador Alexis Lamek hailed the newfound unity as "historic."
Venezuela, which has friendly relations with Syria, disassociated itself from parts of the statement, which called for a political transition to end the four-year war. The South American country last week delayed the vote on the resolution.
Caracas envoy Rafael Ramirez said the council was setting "a very dangerous precedent" by supporting a plan that he said violated Syria's right to self-determination, according to AFP.
The 16-point statement drafted by France had been under negotiation since UN envoy Staffan de Mistura presented his new approach for peace talks to the council last month.
The peace initiative, set to begin in September, would set up four working groups to address safety and protection, counterterrorism, political and legal issues and reconstruction.
The adoption came amid a flurry of diplomatic activity by Russia, the United States, Saudi Arabia and Iran to try to advance prospects for ending the war that has left at least 240,000 dead.
The council demanded all sides work for an end to the war by "launching a Syrian-led political process leading to a political transition that meets the legitimate aspirations of the Syrian people."
The peace process includes "the establishment of an inclusive transitional governing body with full executive powers, which shall be formed on the basis of mutual consent while ensuring continuity of governmental institutions."
The statement made no specific mention of President Bashar Al-Assad's future, but Western governments have made clear that a transition would involve his exit from power, at some point in time.
The council expressed "grave alarm that the Syria crisis has become the largest humanitarian emergency crisis in the world today," with some 12 million Syrians forced to flee their homes.
The statement was adopted a day after Syrian government air strikes on a rebel-held town near Damascus killed at least 96 people in one of the bloodiest regime attacks in the war.
The French envoy stressed that progress on defining a new government for Syria would bolster the campaign against Islamic State (ISIS) jihadists who have gained territory in Syria over the past year.
"We will not defeat Daesh without an organized transition in Syria," said Lamek, using the Arabic name for Islamic State.
Russia has recently floated a plan to enlist the Damascus regime in the campaign against Islamic State jihadists but this was rejected by Saudi Arabia, a key member of the U.S.-led coalition fighting ISIS.
The council requested that Secretary-General Ban Ki-moon report back to the council on the next phase of consultations led by his envoy within 90 days.
AFP contributed to this report.