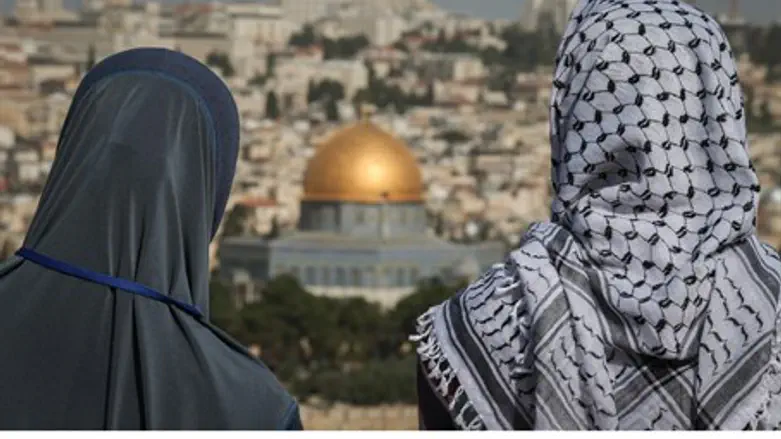 Arabs in Jerusalem (illustration)
Nati Shohat/Flash 90
The Israel Police arrested a young Jewish Israeli on Sunday, after he retaliated toward an Arab mob on the Temple Mount by stating that "Mohammed is a pig." 
And earlier Sunday, another young man was arrested for allegedly praying on the Mount - Judaism's holiest site - and a 14 year-old boy was arrested for unspecified reasons.
According to prominent Temple Mount campaigner Yehuda Glick, the boy was arrested after guards belonging to the Islamic Waqf claimed the tzitzit garment he was wearing over his t-shirt constituted a provocation. Police have yet to comment on that claim.
This marks the fourth arrest over insults to the founder of Islam on or near the Mount. In July, three people were arrested in one week for similar remarks. 
Controversy over the phrase began after 20-year-old Avia Morris was arrested for saying "Mohammed is pig" after she faced hostile Arab women hurling threats at her on the Temple Mount - including death threats. She revealed to the press shortly thereafter that the police were unwilling to intervene to protect her until she had uttered the remarks. 
In making the arrest, police said they would not allow provocations and disturbances to public order by both Jews and Muslims at the site. However, in the case of Morris, she and other Jews were arrested while the Muslim women who provoked the standoff by surrounding the Jews and shouting "Itbach al-Yahud" (slaughter the Jews) were not arrested.
Morris has since noted that she has "no regrets" over the statement, as it prompted the police to act.
Later, however, police continued to ignore Morris, and refused to protect her after she and her family were threatened long after the fact. 
Despite being the holiest site in Judaism, Jews - and other non-Muslims - are forbidden to perform any acts of worship on the Temple Mount, including uttering prayers, due to Muslim threats of violence.
Visibly-religious Jews are scrutinized carefully by police and arrested if suspected of praying - and, increasingly, for odd "violations" such as drinking water. 
The Temple Mount is the location of the two Holy Temples of Jerusalem, the latter of which was destroyed in 70 CE. 
It is also the site of the Al Aqsa Mosque compound, which is built atop the ancient Jewish ruins.
In recent years Muslim groups have sought to deny the Jewish connection to the Temple Mount altogether, claiming it as an Islamic holy site and seeking to prevent growing numbers of Jews from visiting it via organized harassment campaigns and outbursts of violence.