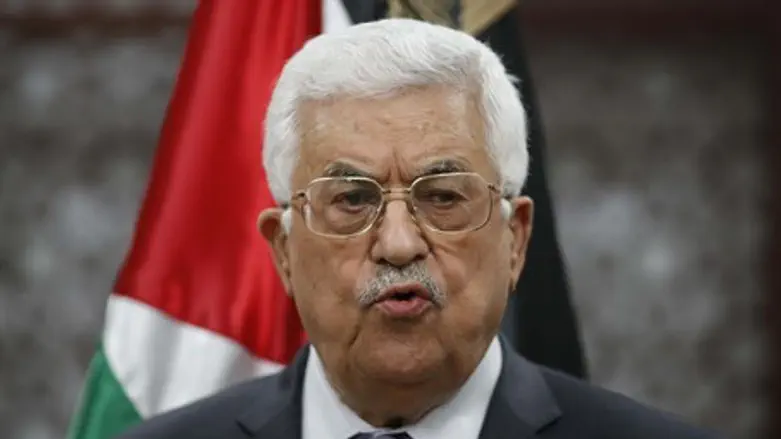 Mahmoud Abbas
Flash 90
Newly-leaked documents once again confirm accusations against Palestinian Authority (PA) officials of corruption and misusing public funds. A senior PA official, who wished to remain anonymous, confirmed to Associated Press that the documents are authentic.
One item is a request for $4 million from Bahrain, signed by Majd al-Khaldi, PA President Mahmoud Abbas's senior diplomatic adviser. The money was supposedly needed to build a private complex in Ramallah that would "resist the Israeli settlements." Ramallah is in Area A, the part of Judea and Samaria that is under complete PA control and in which Israelis are forbidden from entering.
It is not known whether Bahrain approved the request.
The second item is a request by Nazmi Muhanna, general director of the Palestinian crossing and Borders Authority, for the government to give him $15,000 for family expenses. Muhanna claimed that he wanted to send his daughter to a private school and that his relatives in Jordan needed medical treatment.
After the documents came to light, Muhanna justified himself by saying that the PA permits such requests. The PA added that it did not give him the money.
The leaked documents have led to widespread criticism by Palestinians over government corruption. As Mohammed Abu Allan, a political blogger, explained, "If Muhanna's daughter costs the Palestinian Authority 6,500 Jordanian Dinars [$9,200 US] in private school in Jordan, what about the poor students in government schools? Who will pay attention to them?"
One of Hamas's primary campaign stances during the January 2005 election was that the PA was corrupt and does not care for the public. Observers claim that corruption has been somewhat reduced since former head Yasser Arafat died in 2004, but it is still rampant.
Abbas has promised to encourage transparency and accountability - but critics claim that he only cracks down on rivals, while allowing his followers to do as they please.