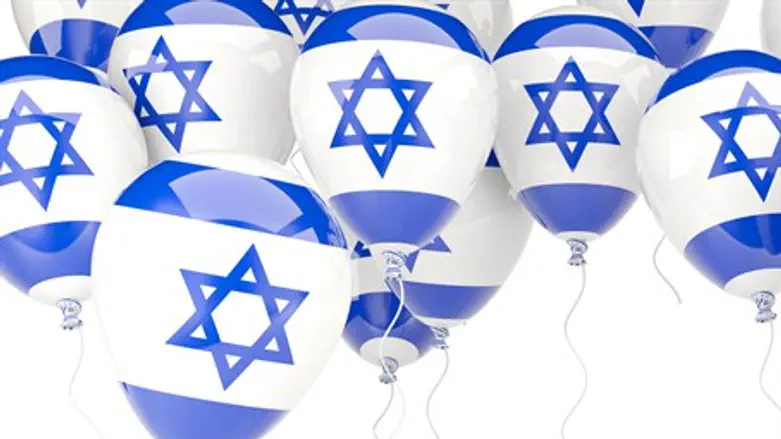 UFOs? Spy balloons?
Thinkstock
Turkish residents refused to be disappointed from their conspiracy theories on Thursday, after their wonder at an alleged UFO they spotted in the skies quickly morphed into anti-Israel hostility when they claimed the Israeli tourist balloon they found was a "spy balloon."
The close encounter of the third kind took place in Turkey's central Malatya province, reports the Turkish Hurriyet Daily News on Friday.
Locals saw what they believed to be a UFO floating in the air, and one resident named Ersin Evren even filmed its slow descent, sure he was about to see spacemen step out onto Turkish soil.
They were disappointed to find that the object, which fell into the garden of a home in Malatya's Hekimhan district, was a white-and-blue balloon with the tourist phrase "Welcome to Israel" written on it in English, reports Cihan News Agency.
But it didn't stop there - locals complained Israel was likely using the air-filled plastic to "spy" on them, leading gendarmerie forces to seize the suspicious artifact.
Why Israeli spies would choose to use a balloon floating in random directions with an eye-catching design as opposed to an advanced drone apparently was a question that never crossed their minds.
It is anticipated the balloon may have come from a nearby vacation town that Israeli tourists sometimes frequent.
As far out as the "spy balloon" claim is, it is actually not the most outlandish claim made against Israel's Mossad spy agency.
Those claims have included "spy ducks" in Egypt, a "spy vulture" in Saudi Arabia, a "spy bird" in Turkey, and a "spy eagle" in Sudan.
Israel has also been accused of unleashing attack sharks in Egypt, in addition to Palestinian Authority (PA) claims of attack boars and anti-Arab rats.
But Iran likely takes the cake for the most outrageous claim, after back in 2007 it arrested 14 squirrels it claimed were foreign spies.
"In recent weeks, intelligence operatives have arrested 14 squirrels within Iran's borders," the state-run IRNA claimed at the time. "The squirrels were carrying spy gear of foreign agencies, and were stopped before they could act, thanks to the alertness of our intelligence services."
Iranian police commander Esmaeil Ahmadi-Moqadam confirmed the incredible report.