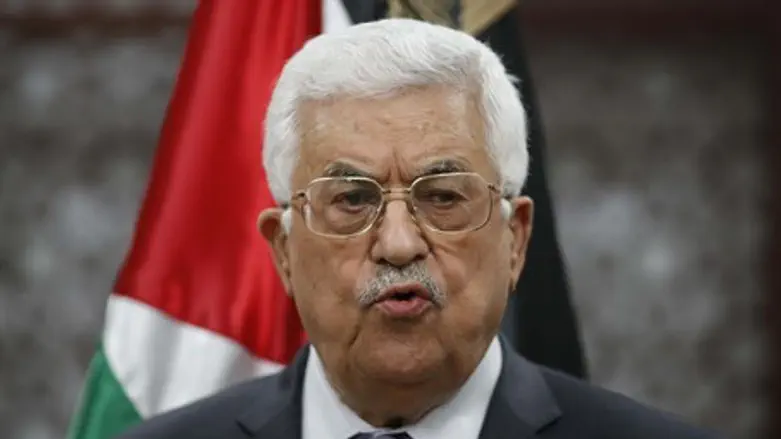 Mahmoud Abbas
Flash 90
Palestinian Authority (PA) Chairman Mahmoud Abbas on Thursday said that if Israel does not catch the culprits behind the lethal arson in the Arab village of Duma in Samaria last Friday, it should be treated as a "collaborator" to the crime.
While speaking at a meeting of the Arab League in Cairo, Abbas accused Israel of the arson that left an Arab infant dead and four family members wounded.
Abbas said Israel is educating "a culture of terror and apartheid."
The comment may strike many as hypocritical, given how Abbas's PA has long used its educational system and media to incite terrorism, and Abbas last October made a public call for a religious war against Jews.
Aside from the PA's rewarding of terrorists and paying them massive salaries, Abbas's Fatah faction has openly called for terrorist attacks, and fired rockets at Israeli civilians during last summer's terror war in Gaza. Fatah terrorists have conducted a number of other attacks recently as well.
Regarding the Duma arson, while Abbas may have blamed Israel, there is still very little evidence as to who in fact committed the attack.
Police rushed to say Jews may have been behind the arson due to the presence of Hebrew graffiti at the site, but in a rare move they turned to the public for help in gathering clues on Tuesday, in an admission that the case is far from being closed. The rushed accusations led Israeli politicians to hurriedly condemn "Jewish terror" - and these calls were then followed by a wave of Arab terror.
There are numerous question marks concerning the case, including reports of an 18-year feud between clans in the Arab village. The home that was attacked is located in the center of the village. According to Arab reports, the attackers first burned another home, purposely waited around to keep the parents from escaping, and later drew graffiti.