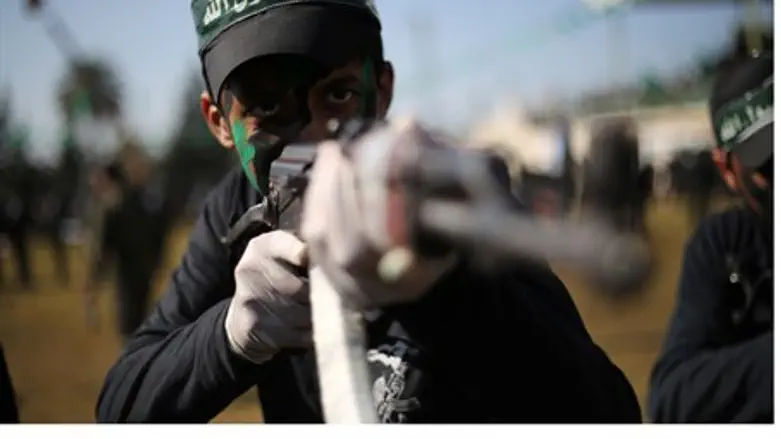 Hamas terrorist (file)
Abed Rahim Khatib/Flash 90
Hamas warned Wednesday of renewed violence unless Israel lifts its blockade of Gaza, AFP reported.
The comments were made at a ceremony marking the end of a military-style summer camp for 25,000 Gazans, in which young children are encouraged to commit jihad against Jews.
"Today, our message to the occupier is very clear: We will not accept a blockade," said Mahmoud Zahar, a senior leader of Hamas which rules the Gaza Strip and has been holding indirect contacts with Israel over a long-term truce in return for an end to the nine-year-old blockade.
"Break the siege because we will not be able to hold back those who want to defend their territory from those who have destroyed their homes and killed their children," he threatened.
The Izz al-Din al-Qassam Brigades, Hamas's so- called "military wing", said participants at the camp spent two weeks being "trained in military techniques and in firing live ammunition" as well as "first aid and rescue techniques".
Hamas has long run summer camps devoted to sport and study of the Koran in Gaza, but over the winter the brigades started giving military training to 15- to 20-year-olds.
Human rights activists condemned it as a violation of children's rights, but the brigades repeated the exercise with the summer camp, while also raising the upper age limit to 60.
Moatassem, a 15-year-old, said he took part to be able to help defend Gaza. "We will grow up and be able to defend ourselves and our people," he said.
Hamas has continuously incited youths in Gaza towards violence against Israelis. Past clips of footage from the group's youth camps have shown young cadets learn how to use weapons and simulate the kidnapping of an Israeli soldier.
Another clip shows a televised graduation ceremony for a similar Hamas youth camp in Gaza. At the ceremony, suicide terror attacks against the "Zionist enemy" were glorified by Hamas officials.
Hamas has also in the past released a cartoon honoring its "military wing," and last year began a program to teach "resistance" to Israel in Gaza's public school system.