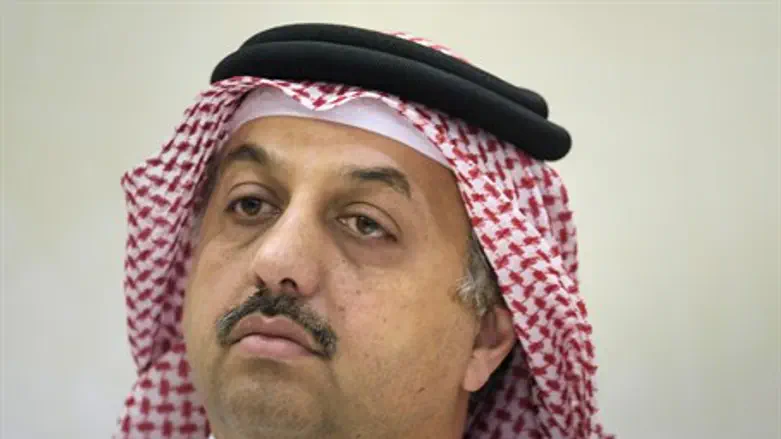 Qatari Foreign Minister Khalid Al-Attiya
Reuters
Qatar's Foreign Minister on Monday blasted Israeli "occupation" when discussing the crises in the Middle East with Secretary of State John Kerry, The Associated Press (AP) reported.
Speaking to Kerry during a meeting in Doha in which Kerry also received Gulf states' backing of the Iran deal, the Qatari Foreign Minister, Khalid Al-Attiya spoke of the urgency of resolving the crises in Syria, Yemen and Iraq.
At the same time, he also complained that "the Middle East is suffering from the failures of the peace process due to the Israeli occupation" of Palestinian land.
Al-Attiya accused Israel of "intransigence" in dealing with the Palestinians and said it must end its "illegal blockade of Gaza", according to AP.
"We call on the United States of America to exert more efforts to go back to the peace process," he told Kerry before journalists were ushered out of the room.
Qatar has been a longtime supporter of the Hamas terrorist group as well as of its parent movement the Muslim Brotherhood.
There were reports several months ago that Qatar halted its financial support for Hamas in order to push the group to change its policy against Egypt, which Qatar had just reconciled with.
Hamas leader Mahmoud al-Zahar said, however, that the report was completely untrue.
Al-Attiya's statements regarding Israel come at a time when the world is trying to persuade Israel and the Palestinian Authority (PA) to resume the stalled peace process.
The European Union said recently it will explore setting up a new international format to breathe life back into the stalled peace process between Israel and the Palestinians.
France has also sought to bring the sides back to the negotiating table, saying recently it was working on a possible resolution at the UN that would set negotiating parameters and establish a time period, possibly 18 months, to complete talks.
The UN's special envoy to the Middle East recently told the Security Council that the two-state solution "is on life-support, slowly dying a death 'by a thousand cuts.'"
Today, he continued, the two sides are further apart from that goal "than ever." Support for the two-state solution among both Palestinians and Israelis is fading away, while the current situation on the ground is not sustainable, he warned.