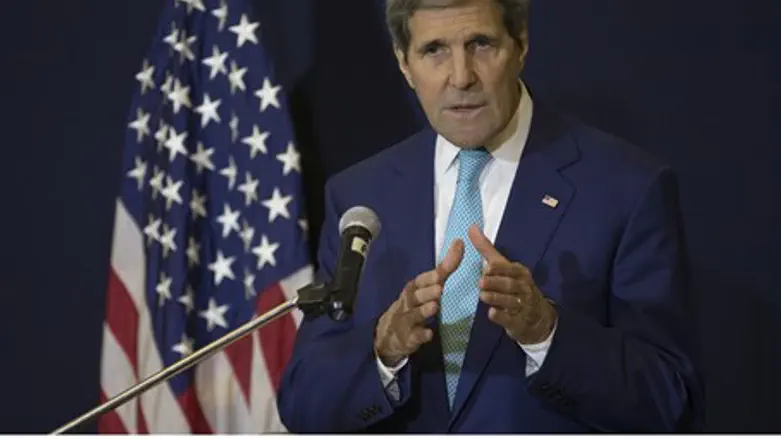 John Kerry
Reuters
The United States on Monday received a vote of confidence on the deal with Iran, as Gulf Arab states welcomed the deal negotiated with world powers, The Associated Press (AP) reported.
At the same time, they said they would like further assurances that the U.S. would help them counter increasing Iranian assertiveness in the region.
Speaking for the six-member Gulf Cooperation Council (GCC), Qatar's Foreign Minister said that the bloc had been impressed by U.S. Secretary of State John Kerry's presentation of the agreement and explanations of how it will be verified and enforced.
"Consequently, the GCC countries have welcomed on this basis what has been displayed and what has been talked about by His Excellency Mr. Kerry," said Foreign Minister Khalid al-Attiyah, whose nation currently chairs the group, according to AP.
"He let us know that there is a going to be live oversight over Iran," al Attiyah said of Kerry's presentation. "This is reassuring to the region."
Kerry had come to Doha seeking to ease such fears and said the United States would continue to expand security co-operation with the Gulf states to counter any destabilizing activities from Iran or others.
"Once fully implemented, the (Iran deal) contributes to the region's long-term security, including by preventing Iran from developing a military nuclear capability," Kerry said, reading from a joint U.S.-GCC statement to be issued later.
He said that the nuclear deal might or might not affect Iran's behavior but that the United States and its allies must plan as if it would not.
"Every state in the region hopes that there could be a change but we have to prepare for the possibility and eventuality that it won't," he said, according to AP.
Among the steps under discussion are developing a ballistic missile defense capability, expediting arms transfers, special forces training, maritime and cyber security programs and a significant boost in intelligence sharing, Kerry said. Working groups on those issues will begin meeting next week in Saudi Arabia, he added.
All of those are part of a package of programs that he said would build "stronger and more enduring strategic partnership with particular focus on counterterrorism and countering the destabilizing activities taking place in the region," he said.
Al-Attiyah, the Qatari foreign minister, said the Gulf Arabs ultimately would like to see a ban on nuclear weapons in the entire Middle East and that the Iran deal could be the first step in a process to bring one about.
At the same time, he said GCC members remained concerned about Iran's possible designs in the region.
Prior to Monday's meeting, a follow-up on a May meeting that President Barack Obama hosted for Arab leaders at Camp David, Arab states had been repeatedly expressing their concern about the terms of the nuclear deal with Iran, warning that a final agreement could allow Iran to keep the technologies needed to produce nuclear weapons.
Saudi Arabia's opposition to the deal was so great that in May, when Saudi King Salman decided not to attend the summit at Camp David with Obama, the move was seen as a snub of Washington due to the talks with Iran.
After the deal between Iran and the West was signed, Saudi Foreign Minister Adel al-Jubeir publicly warned Iran not to use the nuclear deal to pursue "adventures" in the Middle East, advising it to use the deal to improve its own economic situation.