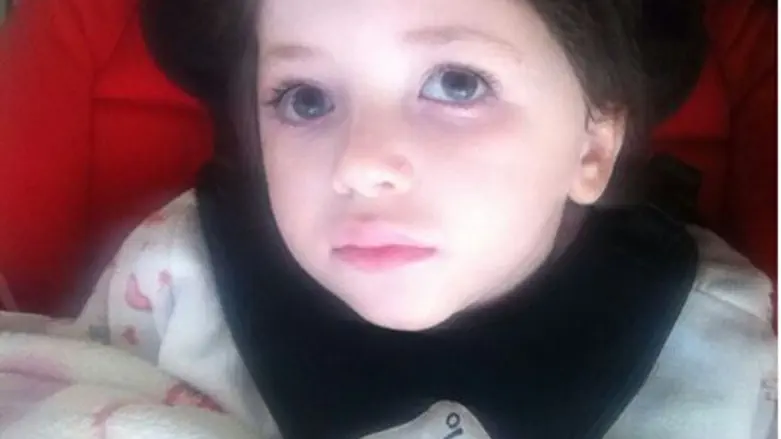 Adelle Biton
Courtesy of the Biton family
Adva Biton, whose daughter Adelle was murdered in a terror attack, told Arutz Sheva Sunday that the government's concern for the murder of a one-and-a-half-year-old baby in the Arab village of Duma last week was touching, but perhaps a bit hypocritical.
"I don't recall President Rivlin, whom I have great respect for, visiting my daughter in the hospital after she was struck by a rock. I don't recall him calling for a public protest when Adelle was attacked. Something is wrong here." Neither, she said, did Prime Minister Binyamin Netanyahu visit her in the hospital.
Three year old Adelle Biton was killed last March when an terrorists threw a rock at the car she was riding in as they drove along a road in Samaria. Five Arab teens were arrested in the case, and confessed to throwing large rocks at the Biton family vehicle. A large stone struck Adelle in the head, and she was comatose for nearly two months before waking with permanent, severe disabilities, passing away two years later due to medical complications.
On Friday, Rivlin spoke out against the arson attack last week in the village of Duma, in which an infant was burned to death, and four family members were severely burned. On Saturday night, Rivlin appeared at a rally in Tel Aviv denouncing the attack, which appeared to have been carried out by Jewish extremists.
But while Rivlin and other politicians were quick to speak out against attacks on the Arab population, attacks on Jews – especially religious ones – did not get top priority.
"Daily we see incidents, many of them serious, in which Jews are attacked in Judea and Samaria," said Adva Biton. "We never hear about these things in the media. I truly regret the attack last week, obviously it was a terrible thing. But what about us? Here they are blaming all the religious Zionists for this murder, but I am the victim of a murder too. "
Biton said she could relate to the death of 18-month-old Ali Dawabsha. "I too lost a child to hate. But dozens, if not hundreds, of others in Israel have lost children to terror. Let us hear from them too, and get past the 'liberalism' that currently exists in which only one side is condemned."