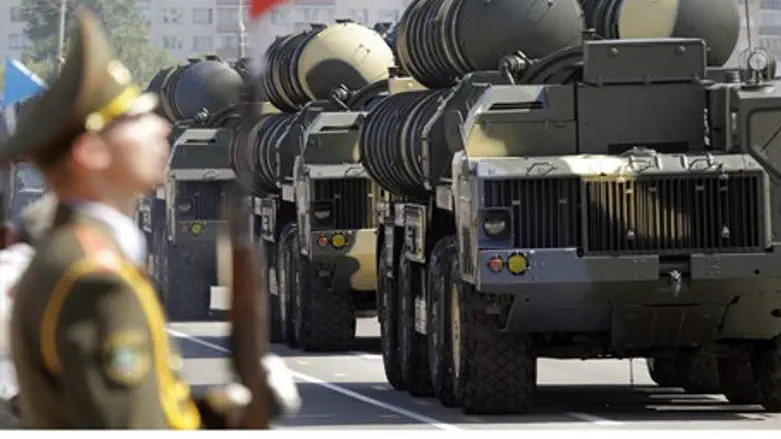 S-300 missile defense batteries
Reuters
The West has long pressured Russia not to deliver its advanced S-300 missile defense system to Iran, but a senior Russian official on Thursday said the system is being upgraded ahead of delivery to the Islamic republic.
Iran's state-run media PressTV quoted Vladimir Kozhin, Russian President Vladimir Putin's aide on military and technical cooperation, saying that the system is to be modernized before being delivered to Iran. He gave no date for the delivery.
The comment refers to the fact that the original 2007 sales contract for the system was to have it delivered in 2010, but Russia withdrew its intention to sell due to pressure from the European Union (EU), which noted that UN nuclear sanctions banned the delivery.
But now with the Iran nuclear deal it would appear Russia may go ahead on the transaction, after chief executive Yan Novikov of the Russian state arms producer Almaz-Antey hinted as much in comments last month cited by PressTV.
"All restrictions have been lifted by the political authorities. When there is a contract, we will supply the system, including to Iran," Novikov said.
Russia caused a diplomatic stir in April when Putin signed a decree lifting a ban on the delivery of S-300 to Iran; it later retracted and said no date has been set for the shipment.
Iran meanwhile announced that it is planning to unveil its own Bavar 373 alternative to the S-300 in early September.
The transaction is highly significant because experts have warned that the S-300, and likely the Bavar 373 as well, would be able to block an Israeli or American airstrike aiming to take out Iran's covert nuclear program that reportedly is aiming to build a nuclear arsenal.
The development is all the more troubling because the Iran nuclear deal stipulates that the West will train Iran to block sabotage attempts on its nuclear program, meaning a possible Israeli cyber attempt to foul up Iran's march to the atomic bomb would also be thwarted.