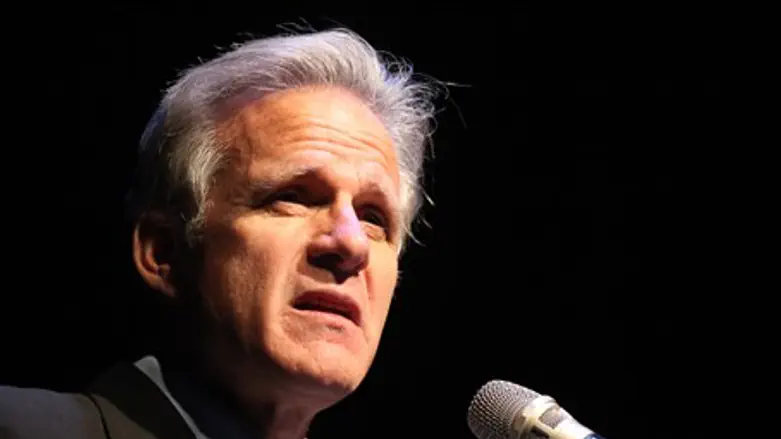 Michael Oren
Flash 90
Kulanu MK and former Israeli Ambassador to the U.S. Michael Oren on Thursday told Arutz Sheva that the government should make every effort to bring released spy Jonathan Pollard to Israel as soon as possible.
Pollard, who is to be released from prison in November after serving a 30-year term, will not be allowed to leave the U.S. under the terms of his parole for at least five years. Oren said that the government should make every effort to convince the U.S. to waive this condition of his release.
"It would have of course been better had Jonathan been released many years ago, but better now than never," said Oren. "He needs to begin rehabilitating himself physically and spiritually, in order to prepare himself to come home to Israel."
Oren said that as Israeli ambassador to the U.S., he had visited Pollard several times in prison. "It was shocking to see a man who had been stuck in jail for 26 years at the time," said Oren. "As a nation, we took responsibility for Jonathan's actions. We apologized to the U.S., and I personally handed President Obama asking for mercy, not a pardon. I am very happy that the parole committee decided to release him."
Pollard has been jailed for 30 years - half of his life - after using his role as a US naval intelligence officer to pass intelligence to Israel about regional security threats to the Jewish state. He was handed a life-sentence, unlike spies from other allied or even enemy nations that got off with a tiny fraction of his sentence.
A senior Israeli diplomatic source revealed on Monday that if Pollard is released in November as planned, he won't be allowed to come to Israel for fear he will receive a hero's welcome. "The Americans are very worried of a situation in which Pollard will be received as a hero in Israel, and therefore they likely will prevent Pollard from leaving American territory," the source told Yedioth Aharonoth.
Asked about the possible connection between Pollard's release and the approval of a nuclear deal with Iran, Oren said that he didn't see any connection between the two. "We are very happy that Jonathan is being released but that will not stop us here in the Knesset from raising our voices against the Iran deal which all of us agree is a bad one, dangerous for Israel, the U.S., and the world."
Israeli politicians, such as Justice Minister Ayelet Shaked (Jewish Home), have said the potential release is unrelated to the Iran deal. And yet, a previous parole hearing was held in July 2014 and rejected on the basis of a now declassified document, that critics say included largely trumped up charges against Pollard.
Lynch echoed Shaked's statement. "It would have been extremely far-thinking of people 30 years ago to sentence Mr. Pollard and set this mandatory release date to coincide with the Iran deal. And if they were able to pull that off I would be quite impressed."
Explaining the latest parole hearing in November, she said, "our sentencing structure has changed in the late '80's and early '90's to where now a life sentence is in fact a life sentence. But under the law in which he was sentenced and the laws of our country which we abide it's not really a recommendation needed from us."