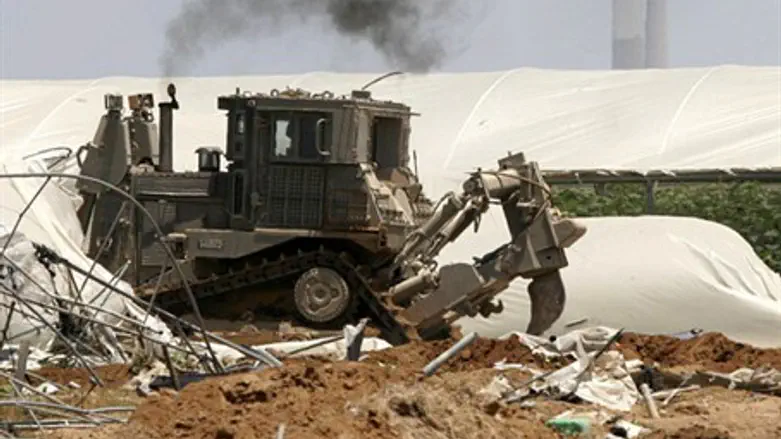 IDF D9 combat bulldozer (illustration)
Flash 90
MK Moti Yogev (Jewish Home) reacted with fury Wednesday to the High Court decision to tear down the Draynoff homes in Beit El.
"Despite the valid zoning plan and the construction permit, the High Court ruled unjustly, in a way befitting charlatans," Yogev said.
"A D9 [bulldozer] shovel should be used against the High Court," he added, in a statement bound to arouse howls of anger in the Left. "We, as a legislative system, will make sure to rein in the legalistic rule in this country, and the tail that wags the dog."
Justice Minister Ayelet Shaked, also of the Jewish Home, responded to the ruling in a more resigned fashion.
"We live under the rule of law and we must accept the verdict, and with it, the pain of the decree," she stated.
"The Beit El homes will be torn down and immediately rebuilt. That is the Jewish way – we do not lose hope and we continue building, building and building."
Tourism Minister Yariv Levin (Likud) called the High Court decision "a disgrace and a moral blight on the justice system."
"It has once again been proven that High Court judges make decisions besed on a political agenda and out of hatred for the settlement enterprise," he accused. Levin said that it the building in question had been built by Arabs in eastern Jerusalem or by Bedouins in the Negev, "the High Court judges would not have ruled as they did." He called for a reform in the way judges are selected.
Culture Minister Miri Regev said that the High Court is "disconnected from the Israeli public and the settlement enterprise." She demanded that demolition orders be carried out in the Arab sector "just as they are implemented in the Jewish sector."
Deputy Defense Minister Rabbi Eli Ben Dahan (Jewish Home) said that the High Court "missed a chance to do justice and ignored the state's position, that the buildings should not be torn down." He added: "A similar case in Tel Aviv would have ended completely differently."
The High Court for Justice ruled Wednesday morning that the contested homes in Beit El, in the Binyamin region north of Jerusalem, must be torn down by Thursday at midnight.
The court rejected the motion for a temporary order preventing the demolition.
Residents of Beit El were calling for nationalist MKs to collapse the coalition on Tuesday, after security forces stormed the Draynoff compound in the town ahead of demolition despite the nearly completed legalization process for the buildings.