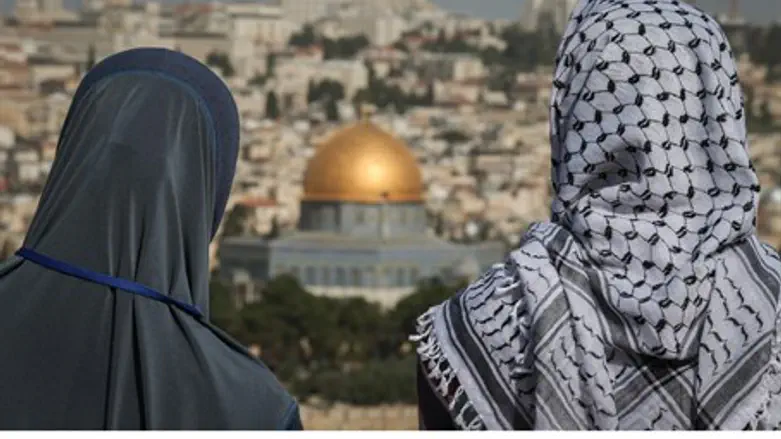 Arabs in Jerusalem (illustration)
Nati Shohat/Flash 90
Police arrested a 26 year-old Jewish Israeli on the Temple Mount on Tuesday, after he stated "Mohammed is a pig." 
The suspect tried to flee and was arrested by police officers, the Israel Police stated.
Today he will be brought to the Jerusalem Magistrate's Court.
This marks the third arrest over insults to the deceased initiator of Islam on or near the Mount, after police arrested another young Israeli for similar remarks on Monday. 
20-year-old Avia Morris was arrested last Friday for saying "Mohammed is pig" after she faced hostile Arab women hurling threats at her on the Temple Mount - including death threats. She revealed to the press on Sunday that the police were unwilling to intervene to protect her until she had uttered the remarks. 
In making the arrest Monday, police said they would not allow provocations and disturbances to public order by both Jews and Muslims at the site. However, in the case of Morris, she and other Jews were arrested while the Muslim women who provoked the standoff by surrounding the Jews and shouting "Itbach al-Yahud" (slaughter the Jews) were not arrested.
Morris has since noted that she has "no regrets" over the statement, as it prompted the police to act.
Since then, however, she has been the subject of endless harassment from Arabs on social media, and she noted Monday that the Israel Police have been unwilling to accept her complaints. 
"It's funny," she observed, "that they were able to file the complaint against me in a matter of seconds, but they don't care that a complaint about death threats will be delayed by a week, with all that the delay involves... I have to wait with the threats upon my life and all of the incitement against me on social networks, by thousands of Muslims, because of a small bureaucratic matter."