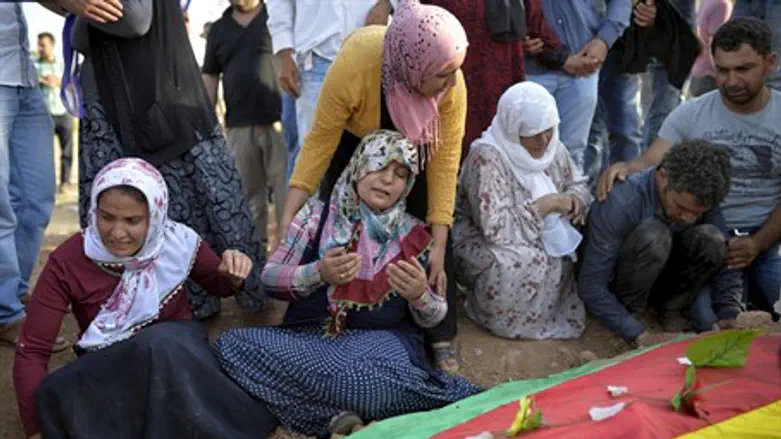 Relatives grieve over coffin of Turkey suicide bomb victim
Credit: Reuters
A Turkish court has ordered a ban on publishing images of the deadly suicide bombing on the border with Syria on all print, visual and online media, including Twitter, a Turkish official said on Wednesday.
"A court order is in place banning access to images related to the bombing," the official told AFP.
The suicide bomb attack in the mainly Kurdish town of Suruc on the border with Syria on Monday killed 32 people - mostly young activists - and left more than 100 wounded, many severely. 
Pictures and videos have been circulating widely online, showing the harrowing moments before, during and after the bloody attack.
Watch: Young Kurdish activists targeted by ISIS suicide bomber
The Turkish official insisted that no formal ban had been placed by the Turkish authorities on the use of Twitter - where many of the images had been posted - as users complained they could not access their accounts inside the country.  
But as Twitter is unable to take down every image related to the suicide attack, users could face problems, the official acknowledged.  
"We are holding talks with Twitter to address this problem," the official said.
President Recep Tayyip Erdogan and his Islamic-rooted ruling Justice and Development Party (AKP) have been repeatedly criticized over curbs on social media and free press.  
Turkey's parliament in April approved legislation to tighten control over the Internet by allowing the government to block websites without prior judicial authorization.    
In just one example, the government blocked Twitter and YouTube in March 2014 after they were used to spread a torrent of audio recordings implicating Erdogan - then premier - and his inner circle in an alleged corruption scandal.
The AKP lost its overall majority for the first time in 13 years in a parliamentary election on June 7, seeking a coalition partner to form a government.
Meanwhile, Turkish authorities say they have identified the bomber as a 20-year-old Turkish national Abdurrahman Alagoz who joined ISIS relatively recently.
Turkish media outlets have been circulating a photo of a burned passport said to belong to the terrorist.
The attack has raised fears of a spillover from the conflict in neighboring Syria. Kurdish militias and ISIS jihadists have been involved in fierce clashes along the border with Turkey, with Kurds succeeding in ousting ISIS from several key positions.
Those fears increased Wednesday morning, when two Turkish police were found dead Wednesday in the southeastern town of Ceylanpinar close to the Syrian border, just two days after the deadly suicide bombing in the same region.
It was not immediately clear if the attack had "terrorist connections", Turkish television quoted the governor of Sanliurfa region, Izzettin Kucuk, as saying.  
NTV television and the state news agency Anatolia quoted Kucuk as saying the police had been found dead in an apartment building.  
The Hurriyet daily reported both had been shot in the head.