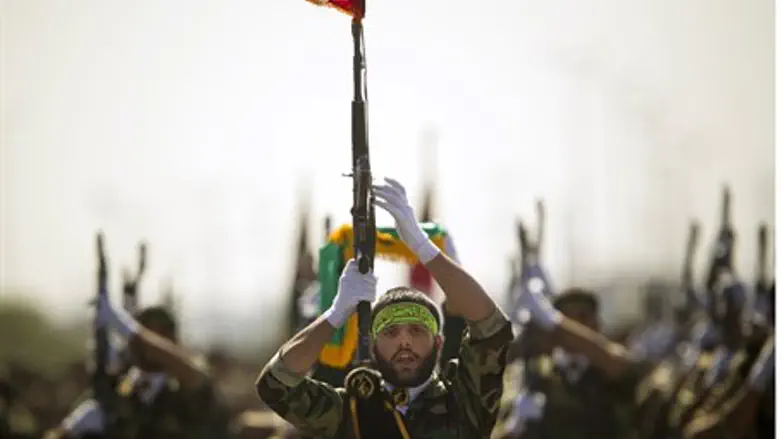 Members of Iran's Basij Force march (file)
Reuters
The vast concessions to Iran made in the nuclear deal last Tuesday, which ultimately allow the leading state sponsor of terror to be able to obtain a nuclear arsenal in ten years, are apparently not enough for a top Iranian general.
Brig. Gen. Mohammad Reza Naqdi, Commander of Iran's paramilitary Basij Force, said on Tuesday that the Iran deal will only make Iranians hate the US more, as quoted by the semi-official Fars News Agency.
"Any Iranian who reads the Vienna documents will hate the US 100 times more," Naqdi said.
He did not specify what particular aspect of the deal would so infuriate Iranians.
The opposition is surprising given that the deal ignores Iran's key nuclear installations where its nuclear weapons testing is said to be being held, and likewise stipulates that the West will train Iran to block sabotage on its nuclear program. The deal also lifts the UN arms embargo on Iran and lifts sanctions against its top terror commander.
But Naqdi indeed seemed to be upset by the deal, as well as the UN Security Council (UNSC) approval of it on Monday.
"All paragraphs of the resolution that the US proposed to the UNSC are full of enmity towards Iran and show the US deep grudge against the Iranian nation," claimed the general.
"The US needs the agreement merely to legalize the sanctions and continue pressure against Iran," Naqdi said, even though the deal will have the US remove sanctions and flood Iran with hundreds of billions of dollars in sanctions relief.
The general added that he thinks the US is using the deal "to provide the ground for military aggression against Iran," according to Fars.
Iran has shown an increasingly open belligerent tone, with an aide to Iranian Supreme Leader Ayatollah Ali Khamanei saying Tuesday that Iran won't let international inspectors visit its covert military sites such as Parchin, where Iran's illicit nuclear weapons testing is thought to be occurring.
Earlier on Tuesday US Secretary of State John Kerry acknowledged for the first time that Iran's vows to defy the US are "disturbing."