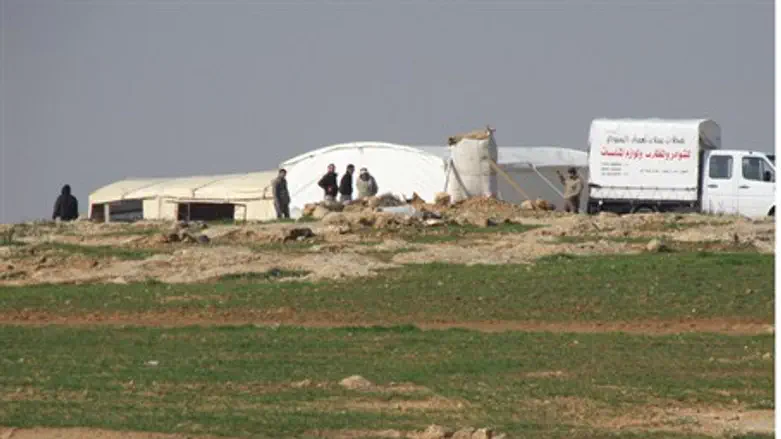 Illegal Arab construction in Susya (file)
Regavim
A brazen campaign to erase an ancient Jewish village from the map is being led by European-funded NGOs, a report has revealed, once more casting a spotlight on the leading role played by European state funding in the anti-Israel movement..
The illegal Arab settlement of Khirbet Susiya, located next to the Jewish town of Susya in Judea, is currently the target of a demolition order by Israeli authorities, having been illegally constructed on the ruins of an ancient, Talmudic-era Jewish village of the same name.
Despite having only been set up by Arab activists - most of whom actually reside in nearby Arab villages - in the past 20 years or so, activists now claim to be residents of an "ancient" Arab village, and have embarked on a campaign to oppose the demolition.
Arab villages bearing Arabicized versions of original Hebrew place names are often built on top of or adjacent to ancient Jewish sites in Israel, particularly in Judea and Samaria, in an attempt to claim those areas as "Palestinian." Many of them tellingly have the word "Khirbet" - roughly translated as "ruin" - attached to them.
The campaign for Khirbet Susiya received a boost when the US State Department issued an unusual, apparently pre-scripted statement at a press conference last week, claiming that the US government is "closely monitoring" the situation, and calling on Israel not to carry out the demolition.
Now, it has been revealed that the campaign is being led by European-funded Israeli NGOs, a report by the NGO Monitor watchdog has revealed.
Among the most notable names in the report is the "Rabbis For Human Rights (RHR)" organization, which has been leading the charge on behalf of Khirbet Susiya by filing an injunction in the Israeli High Court to prevent the demolition.
RHR has often faced accusations of harassing Jewish residents and farmers in Judea and Samaria, including by staging provocations between Jewish and Arab villagers.
RHR also submitted a so-called "master-plan for Susiya" to the court - a document which was funded by none other than the British government. Indeed, the UK Consulate in Jerusalem has recently upped its already substantial financial backing for RHR - from NIS 50,000 (over $13,000) in 2014 to NIS 337,046 (nearly $89,000) in 2015.
But that's not all. In 2015 RHR received a $70,000 grant courtesy of the Human Rights and International Law Secretariat - a group funded by Sweden, Switzerland, Denmark and the Netherlands. 
Among Rabbis for Human Rights's other donors is the radical-left New Israel Fund.
Another far-left, European-funded NGO heading the campaign is B'Tselem, which recently hit headlines after it was revealed that its testimony featured prominently in the UN's recent report on last summer's Gaza conflict, accusing Israel of committing "war crimes."
B'Tselem is similarly a recipient of European largesse, with its over 9.5 million-shekel ($2.5 million) budget comprised largely of handsome donations from the EU and individual EU-members states, as well as the New Israel Fund.
Additionally, the report notes, "(B'Tselem) Staff member Nasser Nawaj'ah, field researcher for the Southern Hebron Hills, is a resident of Khirbet Susiya and part of the extended family prominent in the campaign against the demolition. Nawajah, who is widely quoted in the media about Susya, also set up an Avaaz petition on the demolition."
Other European-funded NGOs involved in the campaign are the anti-IDF Breaking the Silence group and the Israeli-Arab Adala NGO, the latter of which claims Susiya is a "Bedouin village."
The heavy investment by European states in attempting to prevent the demolition of the illegal outpost should come as no surprise, however.
In fact, as first revealed by Arutz Sheva, the European Union and its member-states have been directly funding an illegal settlement drive by Palestinian Arabs in a bid to create "facts on the ground" in Judea and Samaria, prompting accusations of "European colonialism." Indeed, most of Khirbet Susiya itself has been funded by European taxpayers' money; in that sense, the aforementioned NGOs are simply acting to protect a significant investment by their EU donors.
At the same time, the European Union has repeatedly called for the destruction of all Jewish communities in the Judea-Samaria region.
The revelation comes less than a month after the French government said it would continue to fund a militant anti-Israel NGO which took part in the recent "Freedom Flotilla" to break the IDF's blockade of Gaza. An Arutz Sheva expose in June revealed how the Platform of French NGOs for Palestine received some half a million euros from the French government since 2010.
Historical documents have thoroughly debunked claims of an Arab link to Susya, showing how the Arab "village" is a very recent phenomenon, in contrast to the indigenous Jewish connection to the site.
Tzviki Bar-Hai, then head of the Har Hevron regional council, explained to Arutz Sheva in late 2013 how the Palestinian Arabs first settled in Susya.
"I was there in 1976, and aside from the synagogue that was built here in 1969, there wasn't a living soul," he recalled. "We were able to restart the archaeological digs in 1983, and then, too, there were no Palestinians around."
He noted how Arab farmers began to visit Susya for one or two nights at a time during certain parts of the year starting in 1986, revealing that those now claiming to be residents of Susya are actually from the nearby Arab town of Yatta.
"In recent years a few Arab families from Yatta are trying to settle nearancient Susya and to argue that they were expelled from the village of Susiya – which never existed," he said. "They are all from Yatta. They are supported by leftist activists, who come on weekends to help create the narrative of expulsion."