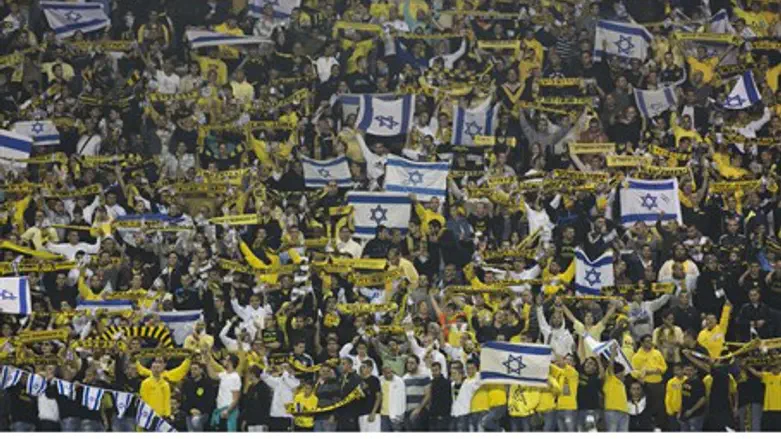 Beitar Jerusalem Fans
Flash90
MK Yoel Razvozov (Yesh Atid), the head of the Knesset's sports caucus, sent a letter to Attorney Generla Yehuda Weinstein on Friday, asking him to examine the legality of the La Familia organization after it was implied to be involved in a Beitar Jerusalem game which saw fans throw smoke bombs onto the pitch. 
In a letter sent also to Prime Minister Binyamin Netanyahu, Justice Minister Ayelet Shaked (Jewish Home), Interior Security Minister Gilad Erdan (Likud), and Sports and Culture Minister Miri Regev (Likud) Razvozov addressed the behavior of the group of fans during Thursday night's game, as well as citing past experiences with the group. 
"There is no question that the La Familia organization acts on motives of hatred, racism and nationalism and its connection to the soccer club is a device whose sole purpose is to escalate nationalistic and racist violence in soccer stadiums in the country," Razvozov argued, adding that its behavior may qualify the group to be stripped of its organizational status. 
Razvozov also sent a request to the Chairman of the Knesset Constitution, Law, and Justice Committee, MK Nissan Slomiansky (Jewish Home), asking to hold an emergency meeting on the State's legal options against La Familia.
On Thursday, several radical fans of Beitar Jerusalem apparently identified as members of La Familia threw smoke bombs onto the soccer pitch during a 5-1 loss to Sporting Charleroi in Belgium. 
Beitar owner Eli Tabib announced he is cutting his ties with the team and selling it as a result of the incident, and is likewise cutting his ties with Israeli soccer altogether, after fans threw smoke bombs and also apparently hit the Charleroi goalkeeper with a thrown object that led him to fall down.The incident likely will cause Beitar to be fined by the UEFA.
During the same game, Arutz Sheva reported Friday, several Belgian fans gave the Nazi salute and shouted taunts at the Israeli players.