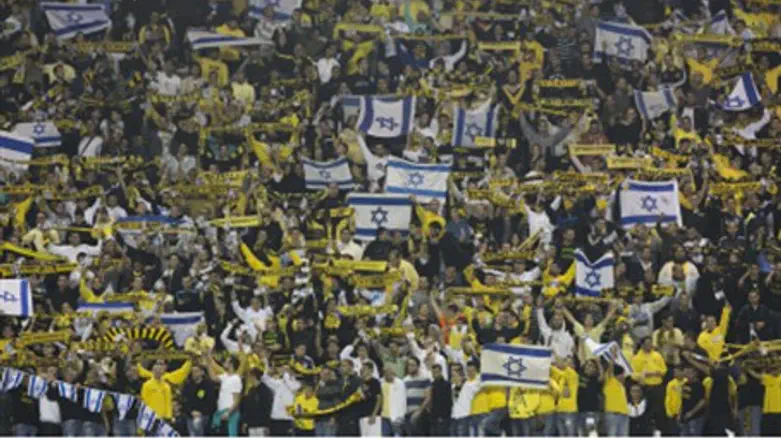 Beitar audience (illustration)
Flash 90
Prime Minister Binyamin Netanyahu on Friday promised he would launch a probe into a the behavior of some radical fans of the Beitar Jerusalem soccer team, after they rioted at a match in Belgium, AFP reported.
Beitar Jerusalem owner Eli Tabib announced after the Thursday Europa League match was halted in Charleroi that he was "ashamed" by the conduct of an "extremist group of fans" and intended to sell the team.
Thursday's match was halted after Beitar fans threw smoke flares onto the pitch, after Charleroi supporters taunted them with Nazi salutes and anti-Semitic and anti-Israeli chants, as can be seen in a video here.
Charleroi's goalkeeper was struck in the head by what Belgium press reports said was a bolt thrown by Beitar fans.
There were no arrests, during or after the match which Beitar lost 5-1.
Netanyahu said he had spoken with Internal Security Minister Gilad Erdan and that the two had agreed to conduct an inquiry into "possible action against the fans who rioted".
"It is good that the decisive majority of Beitar fans immediately condemned the behavior of that same small group," Netanyahu said in a statement quoted by AFP.
Tabib late on Thursday that he was ashamed of the conduct of the "extremist group of fans, which to me aren't even supporters of the team", and announced he was ending all involvement in Israeli sports and selling Beitar.
He also apologized to Charleroi's owner and its goalkeeper immediately after the game, a Beitar spokesman told AFP.
The return match between the teams is due to take place in Jerusalem on Thursday.
The incident likely will cause Beitar to be fined by UEFA, and it led to Sports and Culture Minister Miri Regev (Likud) to promise to take action to curb fan violence at soccer games.
(Arutz Sheva's North American desk is keeping you updated until the start of Shabbat in New York. The time posted automatically on all Arutz Sheva articles, however, is Israeli time.)