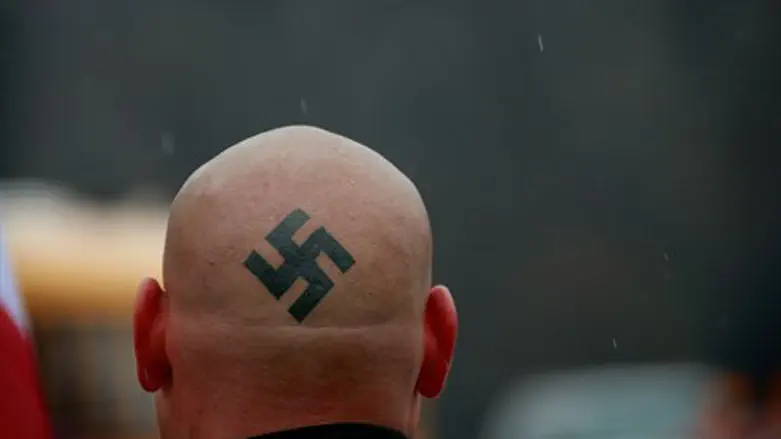 Neo-Nazi (illustration)
Thinkstock
While the media has focused its attention on several radical fans of the Beitar Jerusalem soccer team, who on Thursday threw smoke bombs onto the soccer pitch during a 5-1 loss to Sporting Charleroi in Belgium, not much has been made of the blatant Nazi salutes by Belgian fans which led to the angry outburst.
Beitar owner Eli Tabib announced he is cutting his ties with the team and selling it as a result of the incident, and is likewise cutting his ties with Israeli soccer altogether, after fans threw smoke bombs and also apparently hit the Charleroi goalkeeper with a thrown object that led him to fall down.
The incident likely will cause Beitar to be fined by the UEFA, and it led to Sports and Culture Minister Miri Regev (Likud) to promise to take action to curb fan violence at soccer games.
But apparently slipping under the radar is the blatant anti-Semitism directed against the Israeli fans by their Belgian counterparts, who were revealed in video footage to be shouting taunting chants accompanied by repeated Nazi salutes - conducted even by children and women.
Beitar fans claim that in addition to the anti-Semitic Nazi calls and gestures, several of them were physically assaulted by the Belgian fans before the match.
Gil Ronen contributed to this report.