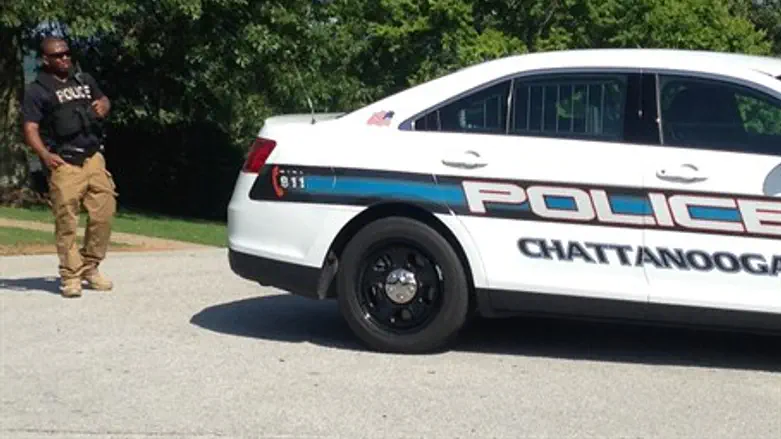 Police block a street near the home of Tennessee shooter
Reuters
New information has been revealed about the 24-year-old shooter who conducted two attacks on Thursday in Chattanooga, Tennessee, in which he murdered four US Marines before dying himself.
Muhammod Youssuf Abdulazeez, a naturalized American born in Kuwait, was not on the terror watch list before shooting an army recruiting station and then opening fire on a Naval Reserve Center where all the fatalities were recorded, in addition to the three wounded in the attacks.
However, Abdulazeez's father was investigated several years ago for donating money to an organization possibly connected to a foreign terrorist organization, revealed the New York Times citing law enforcement officials.
The father was on a terrorist watch list and even questioned during a trip out of the country, but eventually his name was taken off the terrorist list.
FBI officials on Thursday night said they don't have "anything that directly ties" the attacker Abdulazeez to any foreign terrorist organizations, although experts have said his behavior fits the mold of attacks Islamic State (ISIS) has called for.
It was revealed by the counter-terror SITE Intelligence Group that Abdulazeez this week uploaded two blog posts about Islam, describing life as "short and bitter" in one, and warning Muslims not to miss "the opportunity to submit to Allah" in the other.
"We are treating this as an act of domestic terrorism," said Bill Killian, the US Attorney for the Eastern District of Tennessee, on Thursday night. Killian noted that the attack had not been officially classified as terrorism, and the FBI has not ruled out any possibilities.
The suspect, seen driving an open-top Ford Mustang, is believed to have first gone to a joint military recruiting center in a strip mall and sprayed it with gunfire, riddling the glass facade with bullet holes. He then drove off to a Naval Reserve Center about 6 miles away, fatally shooting the four Marines before being shot and killed in a firefight with police.
The attack on an army site brings to mind the 2009 shooting attack at the Fort Hood army base, when Palestinian American Army Major Nidal Hasan unleashed a deadly shooting rampage, murdering 13 and wounding 32. Hasan admitted to conducted the shooting as an Islamist terror attack.
The same base was shot again in April 2014, with the shooter and three victims killed as well as 14 wounded.