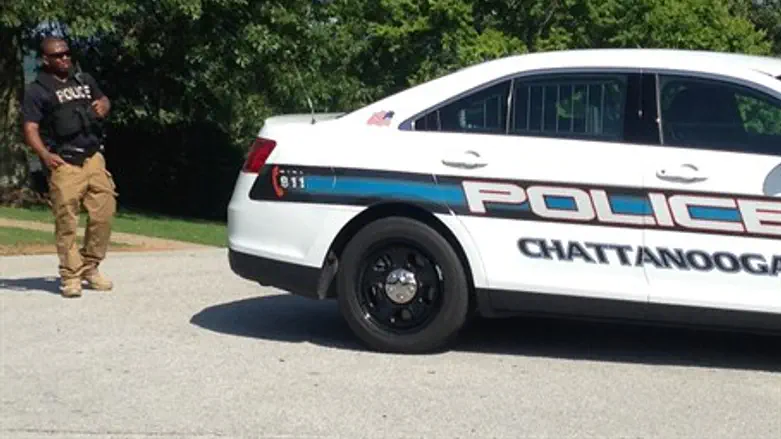 Police block a street near the home of Tennessee shooter
Reuters
The FBI is investigating whether a gunman who on Thursday killed four Marines at two military offices in Chattanooga, Tennessee, was inspired by the Islamic State (ISIS) or another jihadist group, Reuters reported.
The suspect, who was fatally shot by security forces after killing the Marines, was named as 24-year-old Muhammod Youssuf Abdulazeez. NBC reported he was a naturalized American born in Kuwait.
No official motive has yet been given for the shooting attack, according to Reuters.
"We are treating this as an act of domestic terrorism," said Bill Killian, the U.S. Attorney for the Eastern District of Tennessee, adding that no official determination of the nature of the crime had yet been made and the Federal Bureau of Investigation has not ruled anything out.
The Department of Homeland Security was stepping up security at certain federal facilities "out of an abundance of caution" and supporting the FBI investigation, DHS Secretary Jeh Johnson said in a statement quoted by Reuters.
The suspect, seen driving an open-top Ford Mustang, is believed to have first gone to a joint military recruiting center in a strip mall and sprayed it with gunfire, riddling the glass facade with bullet holes.
He then drove off to a Naval Reserve Center about 6 miles away, fatally shooting the four Marines before being shot and killed in a firefight with police, the Reuters report said.
Three others were wounded in the attacks, including a police officer reported in stable condition and a Marine.
The incident brings to mind the 2009 shooting attack at the Fort Hood army base, when Palestinian American Army Major Nidal Hasan unleashed a deadly shooting rampage, murdering 13 and wounding 32. Hasan admitted to conducted the shooting as an Islamist terror attack.
The same base was shot again in April 2014, with the shooter and three victims killed as well as 14 wounded.
There have been several incidents over the past year in which Americans were found to have sympathized with ISIS. In April, a 16-year-old accused of planning to join the group was found guilty of illegal possession of a firearm in South Carolina, having been charged with this offense as South Carolina has no anti-terrorism laws.
His conviction followed the arrest of six Somali Americans from Minnesota who allegedly planned to travel to Syria to join ISIS.
Earlier this week, the son of an American police officer was charged in connection with an alleged terror plot, with prosecutors alleging that he is a supporter of ISIS who wanted to wage a gun and bomb attack on college dorms and a cafeteria that would be broadcast live on the Internet.