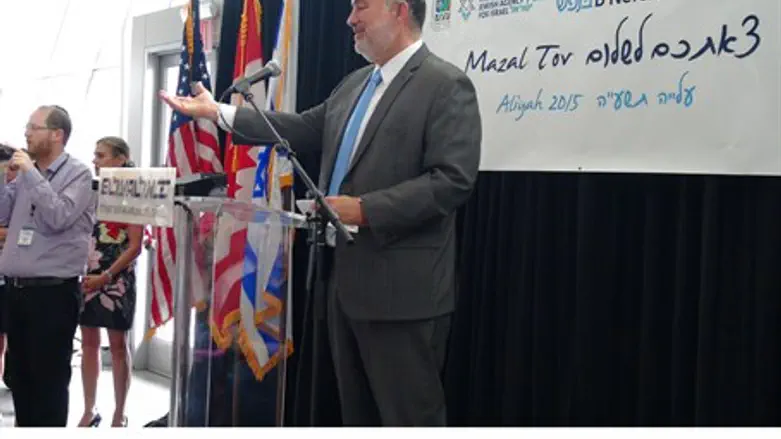 Ron Proser, NBN ceremony
Yoni Kempinski
Israel Ambassador the UN Ron Prosor addressed over 200 people choosing to immigrate to Israel on Monday, as they embarked from John F. Kennedy (JFK) International Airport for the first Nefesh B'Nefesh (NBN) charter flight for summer 2015. The charter flight will land in Israel's Ben-Gurion airport on Tuesday morning. 
"You and I share a common mission," he began. "I and the team at the United Nations stand on the front lines every day, defending Israel from those who question Israel's right to exist." 
"You are the answer - each and every one of you," he added, to applause. "You are the answer to the BDS, you are the answer to anti-Semitism, and you are the answer to all those who question the only state, the Jewish state, the nation-state of the Jewish people."
"When I return to the corridors of the United Nations, I always walk tall and proud, because I know who I represent and what I represent," he continued. "Seeing you here absolutely fills my heart and I want to thank you."