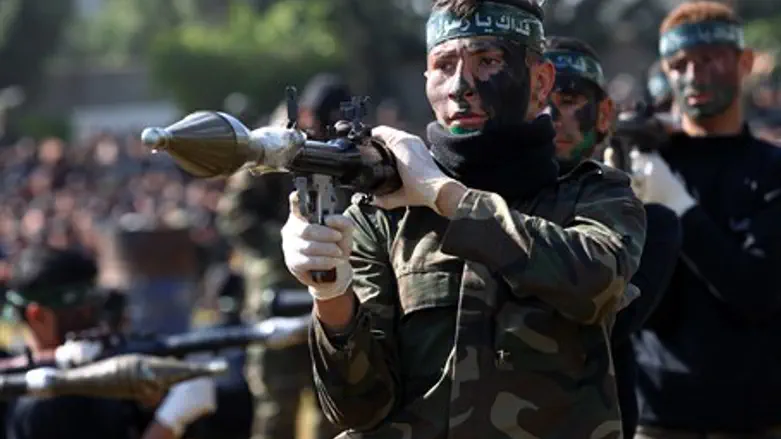 Hamas terrorists in Gaza (file)
Abed Rahim Khatib/Flash 90
Hamas on Tuesday marked a year since its latest terror war against Israel last summer, celebrating the conflict in which its arsenals were depleted and hundreds of its terrorists fell without scoring major casualties in Israel as a "victory."
Salah al-Arouri, a senior member of Hamas's politburo, told Al Risala that the "victory of the Palestinian people" in the last military campaign is a true step towards "independence and freedom."
He played down the massive losses suffered by the terrorist organization, saying the strategic achievements of the war will be given expression by the "national liberation" - namely the destruction of Israel and its replacement with "Palestine" - as well as the liberation of jailed terrorists.
Despite Arouri's claims of "victory," Israel in the war eliminated top Hamas leaders including the group's top financial chief Mohammed al-Ghoul, as well as three top commanders of Hamas's "military wing," the Al-Qassam Brigades. It also botched an assassination attempt on Hamas's elusive military chief Mohammed Deif by delaying the strike for a ceasefire; Hamas breached numerous truces in the war.
Arouri, who has organized numerous terror plots in Israel such as last summer's foiled coup attempt against the Palestinian Authority (PA) from Hamas's headquarters in Turkey, said last summer's "victory" is a deterrent against Israeli "aggression."
The Hamas paper Palestine celebrated a year since the terror war by listing accomplishments of the latest clash, praising the terror attack tunnels into Israel dug by the Al-Qassam Brigades that were used to lethal effect.
According to the claims of the Hamas paper, the tunnels overcame the IDF's advantage in technology and firepower, and allowed the organization to send its terrorists deep into Israeli territory to conduct attacks. It said the tunnels likewise provided a defended area from which to fire rockets at Israeli civilians.
Hamas has been busily rebuilding its terror tunnels, siphoning off humanitarian aid materials such as cement to be used in the construction.