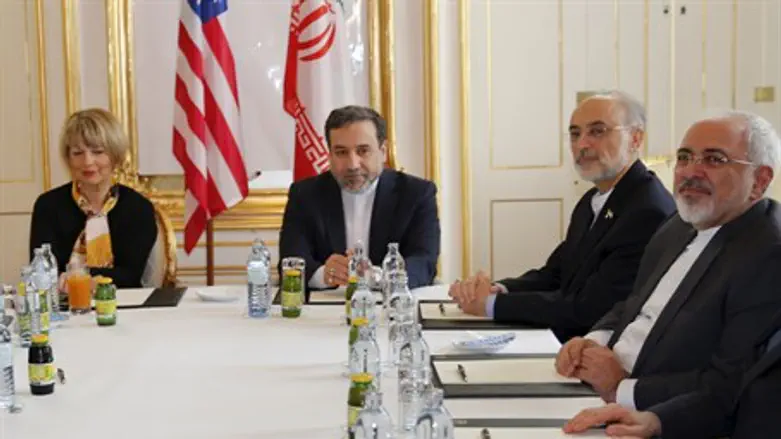 Nuclear talks in Vienna
Reuters
Talks seeking a nuclear deal between Iran and major powers may yet fail, a German diplomatic source said on Monday, according to the AFP news agency.
The comments came as the sides continue talks in Vienna in an attempt to reach a final deal by Tuesday, a deadline which has already been extended several times.
"We are not there yet... We should not underestimate that important questions remain unresolved. There will not be an agreement at any price. If there is no movement in decisive areas a failure is not ruled out," the source was quoted as having said.
The comments came after a day of talks between the foreign ministers of Iran and six major powers - the United States, Russia, China, Britain, Germany and France - in the Austrian capital.
They are seeking an accord that ends a 13-year-old stand-off over Iran's nuclear program by scaling down its activities in return for relief from painful sanctions.
Last week an earlier deadline was effectively extended by seven days to July 7 by extending the terms of an interim deal from November 2013.
But on Monday, an Iranian official suggested that his delegation had never really considered Tuesday as a deadline.
"July 7, July 8, we do not consider these dates as those dates we have to finish our job," the official, who asked not to be named, told reporters, according to AFP.
Monday's comments are the latest indication that the talks are not progressing. On Sunday, Iran's Foreign Minister Mohammad Javad Zarif confirmed that some differences still remained between his country and the six powers.
"Still nothing is clear ... some differences remain and we are trying and working hard," he told reporters.
Also on Sunday, U.S. Secretary of State John Kerry said that an Iranian nuclear agreement is possible this week if Iran makes the "hard choices" necessary, but if not, the United States remains ready to walk away from the negotiations.
And on Monday, Iran demanded yet another concession in nuclear talks - this time, to end the UN arms embargo on the Islamic Republic.
With tensions high and progress still incremental just one day before that deadline, Iran announced that it is working with the U.S. and UN to end the arms embargo - a proposal that the U.S. is likely to categorically reject as part of efforts to reduce Iran's firepower.