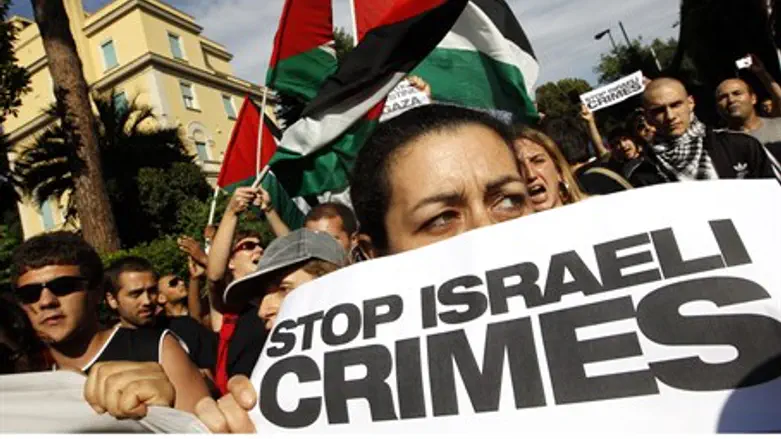 Anti-Israel demonstration (illustration)
Reuters
The anti-Israel professor whose appointment to the University of Illinois  at Urbana-Champaign was rescinded last fall over a series of incendiary tweets written during Operation Protective Edge has found new employment. 
Steven Salaita has been hired as the Edward W. Said Chair of American Studies at the American University of Beirut, he revealed on Twitter last Wednesday. 
"Thank you, friends. I've really missed the classroom. I'll do my very best to honor the legacy of Dr. Said," he wrote in another tweet. 
Said was a noted Palestinian-American academic and literary theorist, who taught at Columbia University. 
The saga over Salaita's employment began last summer when he published virulently anti-Israel tweets on his personal Twitter page during the ongoing Gaza war. 
One tweet branded Israel's defenders "awful human beings" while yet another suggested it would be no surprise if Israeli Prime Minister Binyamin Netanyahu "appeared on TV with a necklace made from the teeth of Palestinian children."
The tweets spread and before long were reported on by local media, enraging several donors, who called for Salaita, due to join the faculty of UIUC's American Indian Studies program, to be let go. 
In response, the university revoked its offer to Salaita; a month later the board of trustees voted against his hiring. 
Salaita has since filed a lawsuit against UIUC, the board of trustees and several administrators accusing them of violating his constitutional rights.