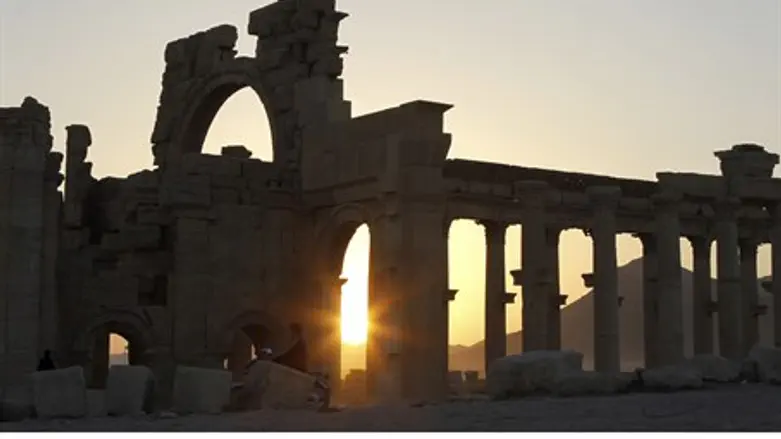 Ancient ruins in Palmyra
Reuters
The UN's cultural body, UNESCO, on Friday condemned the destruction by Islamic State (ISIS) group jihadists of antiquities in the Syrian city of Palmyra, describing it as an attempt to strip the people of their heritage in order "to enslave them".
"These new destructions of cultural goods of the site of Palmyra reflect the brutality and ignorance of extremist groups and their disregard of local communities and of the Syrian people," said Irina Bokova, UNESCO director-general, according to the AFP news agency.
Among the antiquities destroyed was the Lion Statue of Athena -- a unique piece of more than 3 meters high (ten feet) that stood outside a museum, which was smashed on Saturday, Bokova said.
The limestone statue was discovered in 1977 by a Polish archeological mission at the temple of Al-Lat, a pre-Islamic Arabian goddess, and dated back to the 1st century BC.
Bokova also expressed outrage at the destruction of funerary busts of Palmyra, a renowned UNESCO World Heritage site captured by ISIS on May 21.
"The destruction of funerary busts of Palmyra in a public square, in front of crowds and children asked to witness the looting of their heritage is especially perverse," she said.
"These busts embody the values of human empathy, intelligence and honor the dead... Their destruction is a new attempt to break the bonds between people and their history, to deprive them of their cultural roots in order to better enslave them," added Bokova.
She urged action against the "manipulation of religion".
ISIS's harsh version of Islam considers statues and grave markers to be idolatrous, and the group has destroyed antiquities and heritage sites in territory under its control in Syria and Iraq.
In April, the groupt's jihadists released a video in which they can be seen using rifles and sledgehammers to destroy artifacts at the ancient fortress city of Hatra, famed for its unique blend of eastern and western architecture.
Earlier, the jihadists also damaged the site of Iraq's ancient Assyrian city of Nimrud and destroyed dozens of pieces from the museum in Mosul.
On Wednesday, Bokova called for a campaign against what she termed the "culture cleansing" being carried out by ISIS jihadists.
(Arutz Sheva's North American desk is keeping you updated until the start of Shabbat in New York. The time posted automatically on all Arutz Sheva articles, however, is Israeli time.)