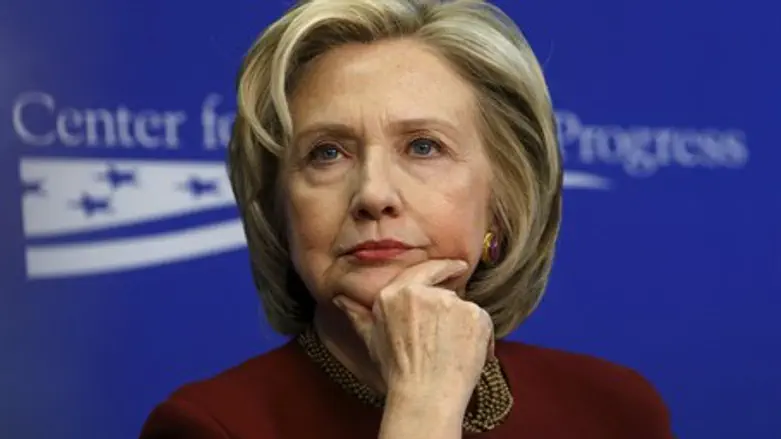 Hillary Clinton
Reuters
Hillary Clinton, the leading Democratic candidate for the presidency 2016, has been hinting to wealthy Jewish donors that she will be a better friend to Israel than President Barack Obama, Politico revealed on Friday.
According to the report, the former Secretary of State has stated to the donors that she would be better for Israel than Obama no matter the result of the Iranian nuclear negotiations.
But, even as donors increasingly push Clinton on the subject in private, they have emerged with sometimes widely varying interpretations about whether she would support a prospective deal, interviews with more than 10 influential donors and fundraising operatives found.
Clinton's private responses in some ways resemble a foreign policy Rorschach test; donors who see a deal as important to world peace have come away thinking that Clinton shares their perspective, but so, too, do donors who oppose any prospective agreement as compromising Israeli security, noted Politico.
Publicly, she's expressed support for the negotiating process, which she secretly initiated during her time as secretary of state, but has also said "no deal is better than a bad deal."
Clinton's campaign rejected any suggestion that she's trying to have it both ways on Iran.
"Her support for the negotiating process and touting support for Israel are not contradictory," Clinton spokesman Nick Merrill was quoted as having said. "A strong deal is good for Israel in her view."
According to Politico, several people who have heard Clinton address the Iranian issue say the fact that different people can come away with such different interpretations is a testament to her nuanced approach to the issue and her skill as a politician, rather than any vacillation on the subject.
"That's just smart politics," said one donor who supports the negotiations and recently talked to her about them. "Because, right now, you have the freedom to say all those things, so why would you commit and box yourself in until you saw what the deal was?"
Clinton recently told another pro-deal donor that she was "very supportive of the negotiating process," the donor recalled, while a third funder said she boasted of her role in starting the talks. "So it seemed like she was supporting it," recalled the funder.
And, at a Manhattan fundraiser last week featuring a largely Jewish group of donors, Clinton defended Obama against charges he had weakened the U.S.-Israel relationship, asserting that such criticism stemmed from a "perception" problem, according to a donor who was present.
At the same time, according to Politico, she also suggested that if she were elected president she could correct that problem and bring the two nations closer.
"Diplomacy is all about personal relationships, and I've got my own relationships," she said, referencing her two-decade association with Israeli Prime Minister Binyamin Netanyahu, an ardent opponent of the Iran deal and, occasionally, of Obama.
Clinton even cited her rapport with former Israeli ambassador to the U.S. Michael Oren, now an MK with the Kulanu party who last week published a book that was brutally critical of the Obama administration.
"I know Michael well, but I haven't read the book," she said, according to Politico.
At a fundraiser last month at the Long Island home of Democratic donor Jay Jacobs, Clinton was asked by an Orthodox rabbi about threats to Israel's security.
"She did stress in no uncertain terms her full and fervent support of the state of Israel and the defense of the state of Israel," recalled Jacobs. "And the people in the audience who heard it seemed to be comfortable with her answer."
Likewise, according to the report, donors at a different New York fundraiser seemed to fully accept her answer to a slightly different question about the U.S. interest in the deal, said billionaire hedge fund manager Marc Lasry, a leading Clinton donor.
"She said 'I'm going to do what's in the best interest of the U.S.,' and that was the end of it," Lasry said.
Dan Berger, a Philadelphia lawyer and major Democratic donor who supports the framework of a deal, cautioned that the interests of the U.S. and Israel, "although close, are not identical. It might not be in the best interest of American Jews, but it's got to be in the best interest of the majority of the people."
He urged Jewish donors "to take a step back and look at the complexity and judge the agreement based on its merits," adding, "I'd hope Hillary would judge it based on its merits and not on political support."
Lasry rejected the suggestion that Clinton would even consider the fundraising implications when assessing any deal.
Clinton several months spoke at the Saban Forum in Washington, where she called for her country to strengthen its ties with Israel.
At the time, she dismissed reports of tensions between Jerusalem and Washington, saying the cooperation between the two countries is "quite extraordinary" and citing "funding of the Iron Dome, the funding of other military needs and equipment, the continuing strategic consultation" as evidence.
"No one can argue with the commitment of this administration to Israel's security," said Clinton, who added that nevertheless, the cooperation must be expanded, "regardless of the political back and forth between two raucous democracies."
Zaki Shalom, an observer of Israeli-American relations at the Institute for National Security Studies, recently told Arutz Sheva that Clinton found the Obama Administration's approach to the peace process between Israel and the Palestinian Authority to be "misguided" and hamstrung her in her ability to wage effective policy or mediation between the sides.
"She was with him from the very beginning of his unbalanced peace initiative," Shalom said, adding that "there were rumors that she was not in favor of the demand from Israel to freeze all the settlements in 2009 without (at least) giving Israel some reward and without asking the Palestinians to make similar concessions."
"In fact, when Netanyahu agreed to a freeze of ten months, she was brave enough to say that this was an unprecedented move which no other government in Israel was ready to undertake," Shalom noted.
(Arutz Sheva's North American desk is keeping you updated until the start of Shabbat in New York. The time posted automatically on all Arutz Sheva articles, however, is Israeli time.)