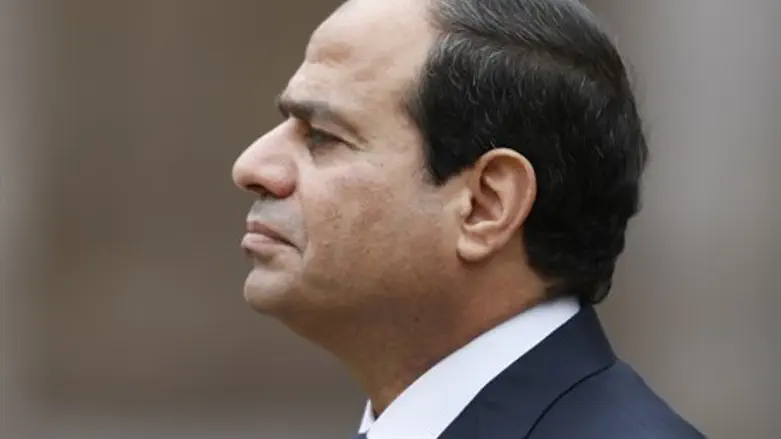 Abdel Fattah Al-Sisi
Reuters
An Egyptian source has revealed that if after launching a brutal attack in Sinai the Islamic State (ISIS) terror group approaches Gaza, President Abdel Fattah al-Sisi may "invite" the IDF to strike it.
The source, who is "familiar with Egypt's decision-making process," told Haaretz on Thursday that Sisi may give the green light given that Gaza falls under Israel's responsibility.
"The two armies may already be coordinating in preparation for such a possibility," revealed the source. "The Egyptian problem is that a military campaign inside Gaza could lead to breaking down the fences and a mass flight of civilians from Gaza to Sinai."
The statement comes after Sinai Province, ISIS's affiliate in the region, conducted a massive coordinated string of attacks on Wednesday that left over 50 Egyptian soldiers dead.
Sinai Province, which was formerly Ansar Bayt al-Maqdis before swearing allegiance to ISIS and changing its name, has reportedly captured the Sinai town of Sheikh Zuweid and has mined the roads to block Egyptian forces from entering.
ISIS may spread its control to the city of El Arish, and thereby encroach on Gaza, leading to the potential cooperation between Egypt and the IDF.
In a video on Tuesday, ISIS threatened to topple Hamas, and likewise threatened the "state of the Jews."
Egypt has been willing in the past to confront Hamas, which is a Gazan offshoot of the Egyptian Muslim Brotherhood that Sisi's government has violently been putting down.
Aside from imposing a siege on Gaza, Egypt has evacuated over 2,000 homes on the Gaza border in occupying part of southern Gaza and creating a buffer zone to block the smuggling of arms between Hamas and Sinai terrorists.
Haaretz notes that many of the Gazan evacuees, who were not compensated for their demolished homes or offered alternative housing, have moved to El Arish and Sheikh Zuweid, and may be tempted to join forces with ISIS, which pays comfortable wages to its members.