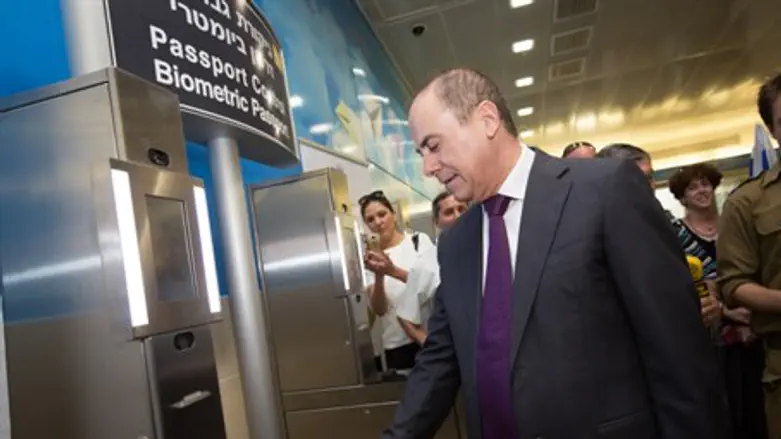 Silvan Shalom uses new biometric passport system
Miriam Alster/Flash90
The Knesset voted Monday to extend the nine-month test period for Israel's biometric identification program, by a 69-43 majority.
The vote ratifies a decision by Interior Minister Silvan Shalom (Likud) last week intended to allow more time for Knesset committees to study the program's progress before making a final decision on whether the program will become mandatory. 
The move is the latest in the implication of the Biometric Database Law, which mandates the collection of fingerprints and facial contours from all Israeli residents for integration in domestic ID cards and national passports.
The same law mandated creation of a government database of that biometric information, to be used for immigration control and identification of individuals, and to assist in locating individuals suspected of criminal activity by the law enforcement officials.
The law was passed in part to prevent identity theft and the loss, theft and destruction of the blue ID cards issued by the Interior Ministry, which had spiraled out of control in the decade prior to 2007. It was later revealed that more than half of those requesting new documents had a criminal background.
The first phase offering a switch to biometric identification on a volunteer basis was implemented in June 2013. As of early 2015, some 640,000 Israelis had switched to the new system; 430,000 Israelis reportedly received biometric identification cards between January and July 2015 alone, according to Walla! News. 
However, there have been some serious flaws in the full pilot program launched in 2014, State Comptroller Yosef Shapira noted last week. According to his report on the issue, at least 15 million shekels ($3.9 million) have been wasted on cards issued that were faulty or had mismatched fingerprinting information, as well as various delays reported in the changeover. 
Despite this, Shapira's report still had praise for the program in general - and the Knesset vote is meant to fix these failures, not halt the entire program. 
"[Ministries in charge of the project are] stepping up efforts to meet all objectives of the test period, they are dealing with the complex challenges arising," he said, noting that "this is a revolutionary, unique, and wide-ranging project." 
The pilot study has included placing more biometric passport stands in Ben-Gurion Airport, a move which Shalom himself helped launch in May.