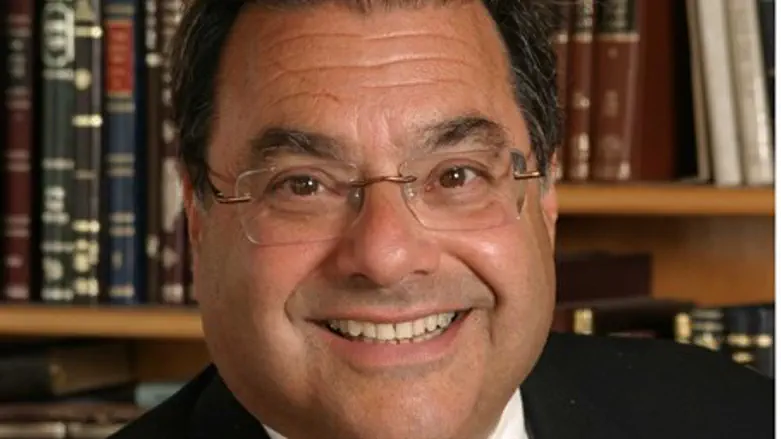 Rabbi Shlomo Riskin
Chaim Snow
The Council of the Chief Rabbinate approved on Monday the extension of Rabbi Shlomo Riskin's term as chief rabbi of Efrat, for an additional five years.
The approval was required because Rabbi Riskin is 75 years old.
In the course of the session, the Council members received the opinion of the Legal Advisor to the Chief Rabbinate, Attormey Harel Goldberg, who determined that when discussing the extension of the term of a municipal rabbi, the only matter that may be considered is his health. Issues of policy are out of bounds.
Some council members expressed their displeasure with this opinion, which they said prevents any serious discussion of the extension.
In the end, the Council approved the extension of Rabbi Riskin's term but also expressed dissatisfaction with some of his halakhic opinions.
The Council also decided to establish a committee to discuss possible changes in the regulations regarding extension of city rabbis' terms, to make it possible to discuss matters other than health when assessing a request for extension.
'A red flag of revenge'
Several influential rabbis, including Rabbi Eliezer Melamed, dean of the Har Bracha Yeshiva, have come out in defense of Rabbi Riskin, after rumors began to spread that his term may not be extended following a report in Haaretz.
The Tzohar Rabbinical Organization reacted furiously to the rumors as well, asserting that "above any effort to depose Rabbi Riskin flies a clear red flag of revenge directed against his positions and halakhic decisions."
Rabbi Riskin's stance on conversion, and his apparent plan to establish a court for conversion together with other local community rabbis, is one apparent reason for the hostility toward him in some circles.
Speaking to Arutz Sheva, Rabbi Riskin said that solving the conversion issue was a key matter for Israeli society, opining, "there are half a million Jews here, who were born of Jewish mothers. We could easily set up courts to convert them properly. Those courts could and should be more accepting, but they would operate properly under Jewish law."